The reality (and one of the intentions) of our big move out of the Bay Area and to the Pacific Northwest is that we really need to be conscious of the money we spend. For this reason, among others, we are working to be homemakers in every aspect of life that we can. When I say "homemakers" most people will think immediately of a housewife in an apron cooking dinner for her husband while he is away working a 9 to 5 job. And while there is nothing wrong with this, that's just not the life for us.
Homemaker to me actually takes on a whole different meaning than that. I use the word in its truest sense. We are, in essence, making our home. We are working to grow our own food, build, trade for, or refurnish much of our own furniture, create our own decorations, put in patios, and do any and all work around the home that most would typically pay someone else to do. The result? Saved money, a feeling of fulfillment, more time together, and improved quality of life. There are, of course, things we still  have to hire folks to do, but we are learning as we go, and slowly but surely taking on more and more projects on our own. We've also grown to love the small town community vibe where people make trades for things they need instead of buying them, where people support each other and help out when needed, and where people work to live rather than live to work.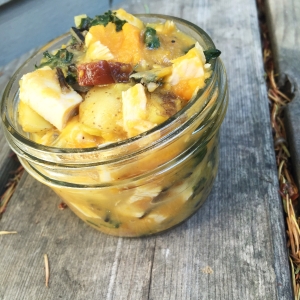 Which brings me to the main point of this post… to share with you a recipe that will save you money, time, and stress. A meal that will take just a short time to make, but will feed a family for a couple days, and one that is loaded with nutrient dense ingredients that are also affordable and will allow you to get the most from what you buy, grow, or trade (nose to tail chicken, for example). It's a simple meal that fills us up and leaves us with money and time to do more of the things we love.
So here you go, a delicious stew that is great for any season. It will satisfy, fuel your adventure, and leave you feeling content and fulfilled too, knowing you saved time and money and are nourishing yourself and the ones you love.
Enjoy! And as always, live rad, my friends!
Any Season Stew (GF, NF, DF)
Servings: 8
Difficulty: easy
WHAT YOU NEED:
3 cups of homemade bone broth (I make broth from the chicken carcass I'll use in this stew – we have roasted chicken one night, keep all the leftovers, and throw the carcass in the pressure cooker or crockpot so we have fresh broth the next day along with the leftover chicken)
1 whole sweet potato, cubed
2 large carrots
2 small potatoes
1 leek
1.5-2 lbs of leftover roasted chicken meat, shredded or chopped up
4 stalks of kale, stems removed
sea salt and pepper to taste
1/4 lb pastured bacon ends, diced (optional)*
*bacon ends are a fraction of the price of regular bacon, and they are much meatier, adding extra protein and great flavor
WHAT YOU DO:
Put rice and broth in a big pot and bring to boil
add sweet potato, reduce heat to a low simmer, and put lid on to cook for 20 minutes
dice your carrots, leek, and potatoes and stir into pot for another 15 minutes
chop kale and chicken and add to pot with sea salt and pepper to taste
keep simmering on low, continuing to stir the stew, which should be somewhat creamy now as the sweet potatoes break down
heat another pan, and cook your diced bacon
once bacon is done, add to pot, stir, and add salt and pepper to taste if needed
Enjoy! This is great fresh and hot and actually also delicious cold on the go (keeps for 4 days in the fridge or longer in the freezer)
*You can also make this in the Instant Pot for a quick meal any night of the week. Just do it in two batches – rice, sweet potato, broth, and chicken for 20 min on poultry setting, then finish it off with the other ingredients for 3 minutes, and boom!
Let me know what you think! And please do share with the ones you love who might need a quick, cheap, and delicious meal (who can't benefit from that?). This will be especially delicious and warming as fall approaches (my favorite time of year)! Cheers!
♡ Laura