I've been getting some requests for quick and simple healthy weeknight meals. This is one of my favorites. It's super quick and easy to make, and it will leave everyone filled up with nutritious ingredients and none of the crap. This is especially good when you've got an asian food craving but don't want the soy, excess sugar, and/or msg that can often come from dining out or ordering takeout.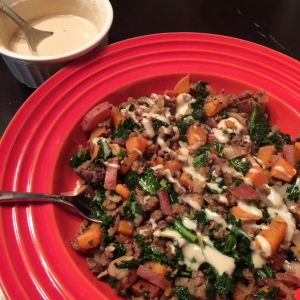 The coconut aminos provide a great substitute for soy sauce (and a flavor I prefer), and the drizzly coconut tahini sauce provides for just the right flavor boost and texture to make this stir fry a total win.
So look no further than this simple stir fry next time you're in need of a quick and simple dinner. It might just become a staple. Oh and it's great as leftovers for lunch too (hot or cold)! Just add a bit more water to your tahini sauce and you're set to go.
Enjoy, and as always, Live Rad my friends!
Coconut Tahini Stir Fry (GF, NF, DF)
Servings: 4
Difficulty: easy
WHAT YOU NEED:
for the sauce:
for stir fry:
1/2 lb pastured bacon (I used ends), diced
1 medium sweet potato, cubed
1 yellow onion or leek, diced
1 clove garlic, minced
1 lb grass fed ground beef
2-3 stalks of kale, removed from stalk and diced
sea salt and pepper to taste
2 TB coconut aminos
WHAT YOU DO:
heat a wok or frying pan on medium-high heat
add bacon and sizzle until you've got some bacon grease in the pan
add sweet potato to pan, sprinkle with salt and pepper, and cook until slightly softened
add onion and continue cooking, tossing or stirring frequently, until onion is turning translucent
add garlic and stir until fragrant
add in ground beef, stirring until cooked through
drizzle with coconut aminos and continue stirring
add kale and cook a bit longer until just softened
add another sprinkle of salt and pepper and drizzle of coconut aminos to taste
just before serving, combine sauce ingredients, adding water slowly until desired consistency is reached (I like it to be liquid enough to drizzle over my stir fry)
plate your stir fry, drizzle with tahini sauce, and enjoy!
Let me know what you think! And leave a comment below if you've got any favorite quick weeknight dinners.