So, on a whim one morning, overcome with a desire for super dark chocolate and needing an extra brain boost from fat and Lions Mane, I decided to throw together some ingredients to see what would happen. And holy shit, magic happened. I posted on Instagram as the experiment progressed, and the response was real. I listened, and one day later, here is your recipe.
Nourishing fat loaded, coffee and mushroom boosted, insanely delicious, conveniently portioned, it's dark chocolate coconut cashew butter cups for the win. Layers of goodness for creamy deliciousness in each and every bite, and even better than a tootsie pop thanks to a special cashew butter center. Cue drooling.
The bottom layer is made from 100% dark chocolate, a pinch of monk fruit sweetener, and the special ingredient of Four Sigmatic Mushroom Coffee Mix with Lions Mane (for brain boosting) and Chaga (for immunity boosting). Follow that up with a creamy cashew butter center and a perfect coconut butter top, and you've got a snack to be proud of, my friends.
Get 15% off your Four Sigmatic order with code: radicalroots

As many of you know, I've been eating A LOT of fat lately and have cut all sugar and grains, and most carbs in general (aside from ALL of the veggies). My body and brain feel incredible. My energy and focus are better than I can remember in ages. And My hormones feel more in balance than ever. After my boosted coffee in the morning, I'll snack on one of these around 11:30 before working out, and then I am set till I finally have a chance to eat a veggie loaded lunch around 1 or 2pm. Talk aboutconvenience.
I hope you enjoy these as much as I do! They're now a weekly staple in our house. Enjoy! ♡
dark chocolate coconut cashew butter cups
Servings: 6
Difficulty: moderate
WHAT YOU NEED: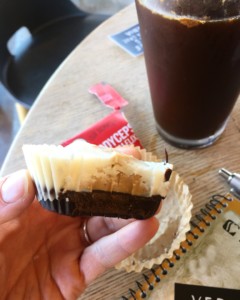 WHAT YOU DO:
set up a glass bowl in a pot with about 2 inches of water in the bottom over medium heat
add chocolate to bowl and stir continuously as it melts, then add sweetener and mushroom powder once melted, and stir to combine
pour chocolate into 6 paper lined muffin tin spaces and set in freezer to set
meanwhile, add coconut butter to pan on stove set to low heat, and stir frequently (careful not to burn it!)
once melted, pull out chocolate bases, add small scoop of cashew butter to each, and pour coconut butter over the top.
swirl the cashew butter with your finger, sprinkle with sea salt, and put back in the freezer for about 15 minutes to set
pull out and enjoy! Store in fridge for best consistency.
What do you think? I'd love to hear your thoughts on this one. High fat, sugar free snacks like this one sure are awesome for busy working mamas on the go. Cheers, friends!
♡ Laura