Welcome to Radical Roots! This is officially my first post under this new name, and I couldn't be happier. To celebrate the new face and new name, I have teamed up with Otto's Naturals to bring you guys a GIVEAWAY! If you enter before 12:00 pm tomorrow (3/31), you can win a bag of my new favorite grain-free, nut-free, versatile, delicious flour… non other than Otto's Cassava Flour! It seems fitting to give away a flour made from my new favorite root in celebration of Radical Roots, after all.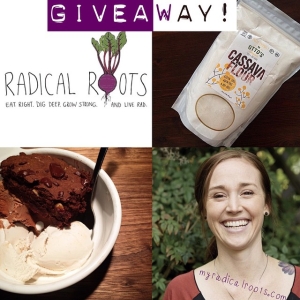 Here's what you do:
Win a bag of this delicious, all-purpose, subs 1:1 flour, and whip up all kinds of delicious treats like my cocoa fudge brownies or the famous buttery blondies.
Now, let's talk about WHY. Why the new name? Why the new face? Why the new focus?
Well, I have grown, morphed, and changed since starting Lift Laugh Eat Repeat over a year ago, and I felt that it only made sense for my blog should morph along with me. Looking back at my very first posts, it's almost comical to see how much I have changed. Since finishing my CNC program, developing a whole new perspective on the power of CrossFit and movement, and even a whole new take on life in the process, my mindset has changed, and therefore, my blogging has too.
So I bring to you a new take on nutrition and paleo – a take that goes beyond just the food we put in our bodies. Where does that food come from? How is it grown, picked, and prepared? We'll talk about recipes (new and improved ones for sure), yes, but we will also talk about nourishing mind and soul. There is so much more to living primally than the food we eat. How are stress levels? Are you playing often enough? Do you get out into nature on a regular basis? Are you moving daily?
These things matter. They all do. To truly have the quality of life we deserve, we've got to move daily, fuel ourselves with nutrient dense foods (a calorie is not just a calorie), foster relationships, enjoy life, and play often.
We don't stop playing because we get old; we get old because we stop playing.
My hope is that this blog will help to nourish your mind, body, and soul. And to enjoy the process. So stay tuned for many new recipes for all types of lifestyles (primal, paleo, AIP, nightshade free, nut free, dairy free, egg free, etc.). Whatever your needs, you'll find something here. And always feel free to reach out! I am here for you guys (and for my own enjoyment too, of course).
So here is my first recipe as Radical Roots: a savory bacon and gruyere scone that is nut free, grain free, crap free (always), and filled with nutrients to fuel you up any time of day.
Enjoy! Oh and these pair wonderfully with my sweet and squashy turmeric chili too.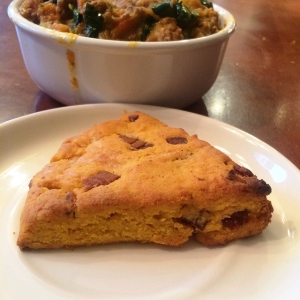 [recipe title="Savory Bacon and Gruyere Scones (GF, NF)" servings="6″ time="25 min" difficulty="moderate"]
WHAT YOU NEED:
1 cup Otto's Cassava Flour
1/2 TB baking powder (be sure it's gluten free, or use THIS substitute)
1/4 tsp sea salt
1/4 cup COLD grass fed butter or ghee, plus 1 TB melted
1/2 cup whole organic whipping cream, preferably raw (coconut cream works too!)
1/4 cup grated raw gruyere cheese (sharp cheddar is also delicious)

4 strips pastured bacon, diced
WHAT YOU DO:
preheat oven to 450 F
stir together the flour, baking powder, and salt in a large bowl
with your fingers, cut butter into flour mixture until evenly crumbly throughout, then stick it in the freezer for 5 minutes
now cook up your diced bacon until you've got crispy bits (keep the grease)
Add the cream plus 1 TB of the bacon grease (trust me), stirring just until dry ingredients are moistened (I use my hands here)
fold in the bacon bits and grated cheese so it's all evenly dispersed
ball the dough up and place on wax paper, then gently press the dough into a large circle so it's about 1″ thick
cut circle into 6 wedges and place them on a baking sheet about 1-2 inches apart
brush tops of wedges with remaining  TB of melted butter
bake at 450° for 15-17 minutes or until golden.
And ENJOY! These are great hot out of the oven or cold over the course of the week. Store them in the fridge for safe keeping. [/recipe]
Cheers to the first of many great recipes to come for Radical Roots. Please, share! Also, feel free to leave comments below for recipes or blog post topics you'd like to see on this blog. And as always, Live Rad!