Ever heard of a tigernut? No, it's not made from tiger genitalia (I thought I would get that out of the way from the start). And no, it's actually not even a nut! TigerNuts are actually tubers, another radical root that has stolen my heart and my tastebuds. Even cooler? Tigernuts actually comprised up to 80% of our Paleo ancestors' diet, a diet that by this point is clearly much better than the current 21st century SAD (standard american diet) that has caused an epidemic in our world, but I'll save that for another post. Tigernuts are high in fiber, iron, potassium, and vitamins E & C. And if you keep reading, you'll get to learn more on all the benefits, what the heck these little roots are good for, and how to make tigernut butter muffins that EVERYONE will love.
I've been increasingly curious about these little non-nuts for the past couple months, and then as if by fate, I got an email from the wonderful folks at Organic Gemini asking if I might be interested in trying out their products – products that are 100% organic, non-gmo, raw, paleo, nut free, vegan, and kosher. So naturally, I said yes please! A company with a great story, with owners who stand true to their beliefs, put care and love into every product, and cares about the earth… well, we've got ourselves a winner. Make sure that you go check out all they have to offer. But first, read on, as I break down why the product is so cool, what I got to try, and my how it all tastes (because that is arguably most important).
First off, why am I so amped with this new (ancient) food? Well, here's a quick breakdown:
Tigernuts made up about 80% of the paleolithic man's diet, and if you've been following me for long, you know that they sure did have it right back then with non of today's modern diseases or pant sizes.
Tigernuts are a resistant starch, a nutrient dense type of fiber that is a pre-biotic, meaning it feeds the good bacteria in the digestive tract and keep our gut in tip-top shape.
Tigernuts are non-allergenic. Really and truly… with no reported allergies in two million years. Try and beat that, peanuts. On top of that, Organic Gemini tiger nuts are produced in an allergen-free facility, so everyone can enjoy these worry-free at middle school snack time.
Tigernuts are super nutrient dense and contain protein, carbs, and fat, making them a great snack on the go that won't spike insulin or leave the consumer with a sugar high and then epic crash.
And last but not least, these little non-nuts TASTE REALLY GOOD. so good, I can't get my husband to stop snacking on them (and that's just the pack of raw, plain tigernuts – the granola and horchatas just kept getting better). They have a sweet, nutty flavor, with just a bit of chewiness, and they will certainly be a staple in our house from now on.
So I opened the box (like a kid on Christmas) and here's what I saw:
6 different flavors of tigernut horchatas, original tigernut raw snack, two types of tigernut granola, and tigernut flour (which inspired the recipe below)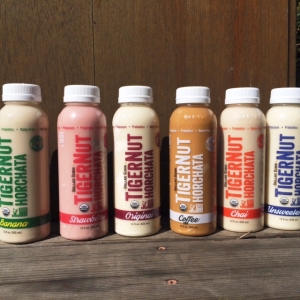 The horchatas are delicious. I immediately opened and enjoyed the unsweetened, which is actually my current favorite (chai is a very close second), and my husband jumped on the coffee (which was also amazing). The flavor of the tigernuts in their original form has the most delicious sweetness that makes the unsweetened especially delicious to me. The banana and strawberry are each an awesome addition or base to any smoothie or shake. And each bottle has a bit of sediment at the bottom that is loaded with those healthy pre-biotics.
Next up, we jumped into the ra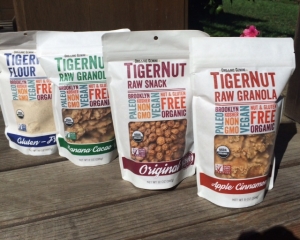 w snack, which (as I mentioned earlier) are delicious. I can't keep my husband out of the bag. The flavor and texture are so unique and delectable, plus with the list of nutritional benefits mentioned before, there's no reason not to use these as a go-to snack on a busy day. They are a solid swap for nuts, which people tend to eat far too often when they switch to the paleo lifestyle. It was on to the granolas next. I couldn't wait to enjoy a bowl of the tigernut granola with raw sheep's milk yogurt, and holy cow it did not disappoint. I only wish the bag was bigger, but no worries, you can get both flavors and enjoy for longer! I like the apple cinnamon best, and my husband enjoyed the banana cacao. The sweetness is perfect in these granolas. Not nearly as sweet as anything else I have tried, which is a great thing. The prebiotic and high fiber content kept me full for hours too, which was great during this busy week.
And last up was the flour, which I am now a HUGE fan of. The muffins below are by far my best yet, and while I would like to take all the credit, they wouldn't be so good without the star ingredient. The tigernut lends a perfect tiny bit of texture to the muffin (I want to say grit, but that doesn't do justice to it), allowing for that delicious bran texture I miss so much. I find it to be far more delicious than almond flour (and much healthier too), which is rad. Like the granola, one of these muffins with some tea (and collagen) in the morning will easily tie me over until a late lunch break. They're moist, and they hold together well, without sticking to the wrapper. The streusel topping makes for the perfect sweet crunch, but if you'd prefer to reduce the sugar, leave it off, and you still have a delicious muffin that's low in sugar because (broken record here) the tigernut has a perfect sweetness all on its own.
Want to win a BAG to try for yourself!? Keep scrolling down to the bottom of this post for steps to win my latest giveaway!
Alright now, that's enough from me. See for yourself! Grab a bag of this flour, and whip up a batch. You will not regret it. Plus, keep scrolling to see how you can win a bottle of horchata to enjoy. Recreate. Share. Enjoy! And as always… Live Rad, my friends.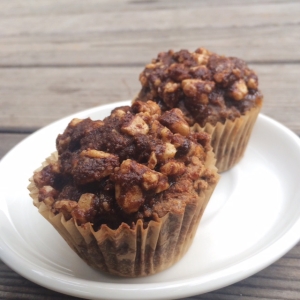 Tigernut Butter Muffins (GF, NF/DF option)
Servings: 6
Difficulty: moderate
WHAT YOU NEED:
1 cup Tigernut flour
1/2 tsp baking soda
1/2 tsp baking powder (make sure it's gluten free or use THIS as a substitute for true paleo)
2 TB coconut sugar
1/2 tsp cinnamon
pinch of sea salt
1 pastured egg
1/4 cup grass fed butter or ghee
1/4 cup nut butter of your choice – I used organic Nutzo (swap sunflower seed butter for nut-free)
1/2 tsp pure vanilla
1 TB pure maple syrup
FOR TOPPING: 2 TB coconut sugar + 1 tsp cinnamon + 3 TB melted butter or ghee
ADD-IN OPTIONS:
CARROT CAKE MUFFIN (pictured) – 1/2 cup grated carrot, 1/3 cup golden berries, 1/2 cup chopped walnuts
APPLE STREUSEL – 1 medium apple diced
CHOCOLATE WALNUT CHUNK – 1/2 cup chopped walnuts , 1 dark bar of chocolate (soy free and fair trade), 2 TB coconut milk or unsweetened horchata
WHAT YOU DO:
preheat oven to 350 F and line muffin tin with muffin wrappers
melt butter or ghee in a pan over low heat and let it cool a bit
in a large mixing bowl, combine flour, baking soda, baking powder, coconut sugar, cinnamon, and salt
in a separate bowl whisk butter, egg, nut butter, vanilla, and maple syrup until smooth
add wet ingredients to dry and stir with a spatula or wooden spoon until combined (it will not be a wet batter, but more of a dough)
FOR CARROT CAKE – fold in carrot, berries, and walnuts
FOR APPLE STREUSEL – fold in diced apple
FOR CHOCOLATE WALNUT CHUNK – crush your chocolate bar into chunks and fold in with walnuts
put a big spoonful of your mixture in each muffin spot and press down so each is filled to the top
now, combine coconut sugar, cinnamon, and melted butter for topping. stir it up and spoon it onto the top of each muffin so that they are covered evenly
bake for 15 minutes and then start checking on them every 2 minutes or so (mine took 20)
once a toothpick comes out clean, set your oven to broil and let the top get nice and caramelized (about 1 min)
Let them cool at least 10 minutes and ENJOY! These stay great at room temperature and can be enjoyed all week.
* you can also double the recipe and bake it in a loaf pan for a delicious carrot cake, apple streusel loaf, or chocolate chip chunk bread!
*Note: the following giveaway has ended. To make sure you never miss a giveaway, join my mailing list!*
WANT TO WIN A BAG OF TIGERNUT FLOUR? Follow these simple steps on Facebook and/or Instagram to win:
Comment on any picture I have posted of an Organic Gemini Product and TAG someone else who might love to try out tigernuts or my recipe
Sign up for my newsletter HERE
And that's it! The winner will be announced on Friday (4/10/15). Best of luck and STAY RAD!