Alright, it's time for smoothie bowl number two! If you missed the first one, check out my banana turmeric bowl HERE. I've had these two on rotation pretty much every day. I've found a good rhythm of making this in the morning while little one naps and sticking it in the freezer. Then, after I workout, I pull it out and leave it on the counter to thaw just enough to get that perfect texture while I rinse off and get Evie situated to nurse. Top it with my favorites, and boom! a nourishing meal that I can enjoy out of a mug while she eats. Mama eats. Baby eats. Life is good.
This is a super balanced and nourishing meal that tastes great and isn't loaded with sugar. It has quick-absorbing whey protein (feel free to sub your favorite protein if dairy doesn't work for you) and rebuilding collagen peptides. It has energy dense carbohydrate from banana and your choice of toppings. It has healthy fat from coconut yogurt and cashew milk. And it is loaded with nourishment from Paleovalley superfood greens and antioxidant loaded acai and cacao. It's quickly become my favorite midday energy boost, and even while breastfeeding, it lasts me all the way till dinner! Give it a shot, and let me know what you think.
Don't forget, use discount code "radicalroots" for 20% off any Paleovalley order!
Cacao Acai Smoothie Bowl
Servings: 1
Difficulty: easy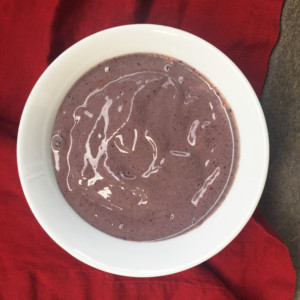 WHAT YOU NEED:
for the base:
toppings (pick and choose or create your own!):
WHAT YOU DO:
run acai packet under warm water for 15 seconds and break it up in the package
put banana, acai, yogurt, and 1/2 of milk in the blender and blend until just combined
add powders and remaining milk and blend again until everything is combined (add more milk if needed, but it should be nice and thick)
pour into a bowl and place in the freezer (if you'd like thicker consistency) for about 30-45 minutes (note: I've made mine hours or even the night before; in this case just pull it out about 30 minutes before your ready to eat so it thaws out and gives you that yummy texture; just stir and you're set!)
remove from freezer, top with your favorites, and…
ENJOY!!
I'd love to read/see/hear your thoughts! If you give this a try, tag me on Instagram or leave a comment below with your thoughts. Sending love to you guys!
♡ Laura