Guess what, friends… I am on shrooms, and I am in love.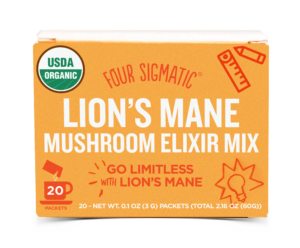 Yes, I said it: shrooms. Four Sigmatic mushrooms, to be exact. Beyond the Portobello, an entire kingdom of mushrooms exists, many with amazing health benefits for immunity, energy, and longevity that have been studied for centuries. The folks at Four Sigmatic believe in the real magic of functional mushrooms like Reishi, Chaga, Cordyceps, and Lion's Mane, as well as other superfoods and adaptogens like rhodiola, eleuthero, and schisandra to help people like you and me live healthier, more enhanced lives. And after a few months on these shrooms, I am a 100% believer too.
So much so, in fact, that I've decided to team up with the authentic, down to earth people at Four Sigmatic to bring you a discount code and continual updates about the products I love most!
This company makes drinking mushrooms and superfoods delicious and easy-to-do with products like their Mushroom Coffees, Mushroom Superfood Blends, and Mushroom Elixirs (I use the Lions Mane in this recipe, but the possibilities are endless). They sell tins for at-home use and single-serve packets, which have been so convenient in our MANY recent family travels. I love blending their products with coffee, hot water, or nut milk, or mixing them into smoothies and shakes.
The recipe below, though, has to be my current favorite. I kid you not, since starting Lions Mane, my flow state, work performance, and creativity have been at a whole new level. Mushrooms paired with cutting all sugar and grains has made me feel like superwoman, and frankly, I never want to go back. It might sound crazy, but I have a feeling you'll agree once you give this a try. Bonus points for travel coffee blends to take on the road with whichever shroom you desire.
Lions Mane truly helps me feel focused and creative in ways I haven't before, especially in combination with high quality organic coffee, collagen peptides, protein, and the extra fat and nourishment from raw heavy cream, mct, and Malk cashew milk (fat just so happens to be super effective brain fuel too).
Needing an extra immunity boost (Chaga)? Some extra energy for your workout or motherhood (Cordyceps)? Or maybe something to help you relax or sleep more deeply (Reishi)? Four Sigmatic has you covered.
I hope you enjoy this one as much I do every. single. day. Peace, love, and shrooms, friends!
Brain Boosting Loaded Coffee
Servings: 1
Difficulty: easy
WHAT YOU NEED: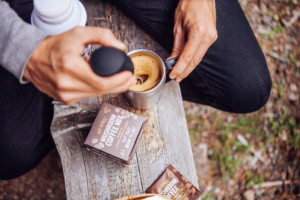 12-16 ounces coffee of your choice (I like mine french pressed and always fair trade and organic, and lately mostly swiss water processed deaf)*
Four Sigmatic Lion's Mane – or any of the other incredible boosters I mentioned above (15% off code: RADICALROOTS)*
1/4 cup or so cream or milk substitute of your choice (lately I am loving Picnik creamer in my ceramic frother)
1 serving of collagen (I am LOVING Paleovalley's Bone Broth Protein; save 15% with code RADICALROOTS)
1 tablespoon mct oil or coconut butter
optional to make it GOLDEN (another new favorite): 1 scoop Organifi Gold ((save 15% with code: MODERNMAMAS)
*Or go for the Lions Mane Coffee Elixer and skip the need to brew your own coffee all together! This is my favorite for traveling. I bring along my travel frother/blender, and I'm set!
You can also do this with cold brew! Blend it all and enjoy, BUT if you're using raw heavy cream, add that after blending or it basically turns to butter. 
WHAT YOU DO:
brew your coffee in desired manner
steam your milk and cream (trust me on this – game changer)
meanwhile add all remaining ingredients to your Vitamix or blender (or straight to your mug and use the travel frother)
once coffee is done, add steamed milk/cream and coffee and blend until frothy
ENJOY!
What do you think? Are you a loaded coffee kind of morning-er? I love sipping slowly over the course of a couple hours (thank you YETI for keeping my coffee warm while I work, wrangle and feed Evie, and feel like superwoman). OR as the weather gets warmer, you can swap in your favorite cold brew and use emulsified mct oil (yum).
Hugs!
♡ Laura