We've got another new Podcast Partner! We are SO EXCITED to share that Four Sigmatic has come on to support the Modern Mamas Podcast and to bring you guys a great deal! If you've been following along, you know that I am loving the impact these deeply medicinal real food supplements have had on my life, and I can't wait to hear what you think too. Get 15% off your Four Sigmatic order with code: modernmamas! Happy shrooming, friends ♡

"Guest Episode: Amy Upchurch on Hyperemesis Gravidarum, empowerment through struggle, motherhood, entreprenuership, and taking our health into our own hands"
Good news! We've got a discount for you! Get 25% off site-wide at pinkstork.com until August 25th with code: modernmamas
In this episode of the Modern Mamas Podcast, Laura sits down with Amy Upchurch, mama of five and founder of Pink Stork, to talk all about the empowerment that can come through struggle and the immense importance of nourishing supplementation during preconception and beyond!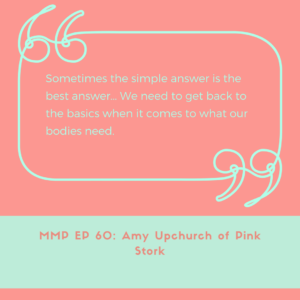 Amy Upchurch is a military spouse & mother of five kids. She started Pink Stork from her own personal struggles. During her first 3 pregnancies, Amy was diagnosed with Hyperemesis Gravidarum (extreme morning sickness), contracted a blood infection, and at one point, the doctors gave her and her unborn baby 24 hrs to live. Needless to say, she didn't feel she was very good at being pregnant! When she found out she was pregnant with baby #4, she chose to take a different approach. She worked with doctors, nurses, and midwives to find an all-natural route to find relief in her pregnancy, and she had an amazing fourth pregnancy because of it! Her journey inspired her to start Pink Stork.
Links and Such:
Hyperemesis Gravidarum
Pink Stork Approaches 
Liquid Prenatal
All Pink Stork products
Find Pink Stork on Instagram
Find Pink Stork on Facebook
Connect with us:
Don't forget! We've got a discount for you! Get 25% off site-wide at pinkstork.com until August 25th with code: modernmamas
Any thoughts or comments? Leave them below. We love hearing from you.
♡ Laura