We've got another new Podcast Partner! We are SO EXCITED to share that Four Sigmatic has come on to support the Modern Mamas Podcast and to bring you guys a great deal! If you've been following along, you know that I am loving the impact these deeply medicinal real food supplements have had on my life, and I can't wait to hear what you think too. Get 15% off your Four Sigmatic order with code: modernmamas! Happy shrooming, friends ♡

"Guest Episode: Dr. Jaclyn Chasse on optimizing male fertility"
In this episode, Jess sits down with Dr. Jacyln Chasse, founder of Perfect Fertility to discuss all things male fertility.  We talk about the process of fertilization, incidence of male infertility during the conception journey, and how to optimize male fertility in a few simple and straightforward ways.  This one is for those who are in the pre-conception, conception, and postpartum phases alike!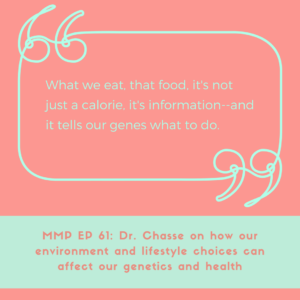 Dr. Jaclyn Chasse is a naturopathic doctor & founder of Perfect Fertility (www.perfectfertility.com), home of the integrative & functional medicine approach to infertility. She has trained thousands of doctors on her fertility methods, and helped hundreds of couples conceive. In her spare time, she loves gardening, healthy cooking, and being a mindful mama to her brood of 6 children!
Links and Such:
The Agouti Mouse Article
DUTCH Test 
Connect with Dr. Chasse: www.perfectfertility.com and @perfect_fertility on Instagram
Connect with us:
Any thoughts or comments? Leave them below. We love hearing from you.
♡ Laura