Want to watch my video tutorial sourdough guide? Find that HERE!
SOURDOUGH. Who knew something so simple could bring so much joy, presence, grounding, and nourishment?
Did you know sourdough is the oldest form of leavened bread and was used as far back as ancient Egypt? No wonder I feel so connected and grounded when I bake. I love that every recipe you'll find will be a little bit different. Just like stories shift and change when passed down from generation to generation, so to do our sourdough techniques. I think of this much less as a recipe and much  more as a guide to help you tell your own story through sourdough. One thing is for certain, though: all sourdough begins with a starter, a mixture of flour, water, and what feels like a pinch of magic. Sitting at room temperature, wild yeasts in the air and on the flour settle into the starter mixture. The fermentation that occurs after a few days gives the starter its sour smell and magic powers. Our starter is named Willow, and I plan on sharing her with loved ones and passing her down to Evie and hopefully many generations to come.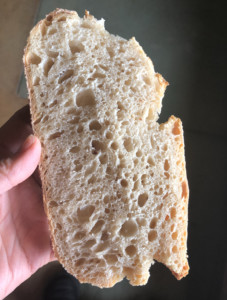 I've gotten a lot of questions about why I can enjoy sourdough when I have gluten intolerance. Well, it comes down, once again, to the magic of the starter and fermentation she brings. The fermentation process that gives the bread its delicious sour taste also makes it much more gut-friendly than your standard bread, especially when you stick to organic and sprouted grains, and even more ideally, ancient einkorn. The sourdough's bacteria breaks down the flour in a way that mimics our microbiome. In fact, the microbes that are in your sourdough starter are the same microbes that are in the soil and in our guts. How wild is that? We're more connected to the earth than we often realize. What happens is that the wild yeast and bacteria in a sourdough starter break down some of the carbohydrates and proteins found in flour that can be tough on our guts, making for a much more easily digestible  and nutritionally beneficial real food. The fermentation also increases the body's ability to absorb vitamins and minerals from the sourdough. As your dough ferments, it produces enzymes that break down phytic acid, which can inhibit the body's ability to absorb nutrients.
So, not only does sourdough taste outstanding, it's also nutrient dense and a great vessel for other nourishing foods like grass fed butter, avocado, smoked salmon, chili, soup, and more. The options are endless.
First, let's talk about your STARTER.
Ours is named Willow, she is loved by my whole family. Willow started from dehydrated starter gifted to me by my dear friend Ashley. I slowly rehydrated it over the course of three days and have been feeding Willow daily ever since, aside from a few travel stints where she waited patiently for me to return in the fridge. Usually, I like storing her in an airtight glass container, on my counter.
Step 1: adopt or borrow some organic, well loved starter from someone you trust. This could be a friend, like my dear friend and workshop cohost Ashley of Sunshine and Sage, a relative (older the better), a local sourdough bakery, or a wonderful small family farm like my friends at iii Rivers Farm. I am also a big fan of Cultures for Health for all things fermented, and they have great starters for a variety of flours (use that link and get 20% off your order). I am not here to tell you how to start one from scratch because I think one of the most beautiful thing about sourdough is how cool it is to start a whole new starter and sourdough practice after inheriting sourdough that's been loved on by someone else.
Step 2: Rehydrating and feeding are pretty much the same. Add 1/3 cup organic unbleached flour of your choice (I've maintained mine with only organic unbleached white flour and have found great success) and 1/3 cup room temp or slightly lukewarm water. Stir and repeat morning and evening every day until you have a robust starter of your own. Once your starter is nice and bubbly, take it down to once a day (I like morning). At this point, you'll need to discard a bit. Take about 1/4 cup of starter out before you add your flour and water. I love using this for Evie's sourdough pancakes and all of the recipes in my Sourdough Sisterhood Ebook!
Note: I have found the best success and most active happy floating starter from feeding about 3-4 hours before beginning a loaf, but this process is forgiving, and sometimes, I will start a loaf with a starter fed even 12 hours before!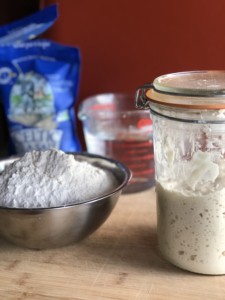 And now, friends, it's time to bake.
Here are the steps to baking your own simple loaf. I've included the times I like to start and bake for reference. Another beautiful thing about sourdough is that you can make the process work into your own unique life. I plan to continue to expand and add to this post as my knowledge and experience grows too. That's the beauty of sourdough baking, we get to ebb, flow, and grow along with our starters and our loaves.
real deal sourdough
Servings: many
Difficulty: moderate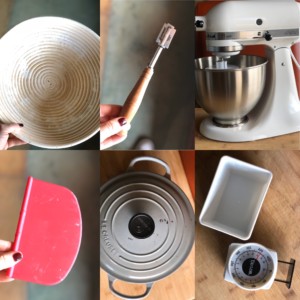 EQUIPMENT
large glass bowl + cling wrap or a bread sized Bee's Wrap
a scoring blade or very sharp knife
a bread basket (not necessary, but very helpful)
parchment paper (again, not necessary but helpful)
a 3.5qt dutch oven (a roasting dish with lid can also work here, but the crust won't quite as awesome, in my opinion)
INGREDIENTS:
425 grams of room temp water
200 grams sourdough starter
650 grams of organic your flour choice (I recommend Einkorn for flavor, crumb, and nutrition)
15-20 grams of sea salt, depending on taste (I prefer a little extra salt)
sprinkling of gluten free flour (I use Otto's Cassava Flour)
WHAT YOU DO:
About 5pm: Add water and starter to your mixing bowl, and stir with hand or bowl until just combined. Then, add flour and mix with hands or scraper until you have a shaggy ball, let sit to leaven for 30 minutes uncovered.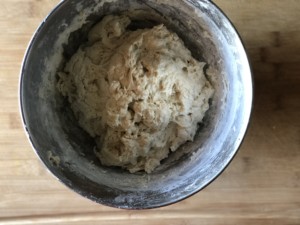 About 5:35pm: After 30 minutes, sprinkle salt over dough, and pinch it into the dough with your fingers until combined, and then use scraper to scrape off sides of your bowl and set in the mixer on the lowest setting for 20 minutes. Note: if you do not have a standing mixer, you can alternatively "stretch and fold" every hour, 4 times total. This means you'll pull each side of the dough, one side at a time, and fold all the away across.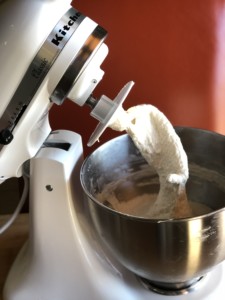 About 6pm: Transfer to large bowl and cover with lid, cling wrap, or Bee's Wrap and set in a consistent temp, dark spot to proof for 12 hours (there is wiggle room here; Ive done as few as 6 hours and as many at 14). This will all depend on the temp in your home. If it's warm, make sure to check and/or put in the fridge after about 6-8 hours. In cooler temps, I've gotten away with a 15-hour countertop ferment.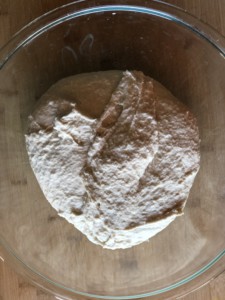 About 6am: Dust a big cutting board or clean kitchen surface with gluten free flour, and scrape your proofed, now much larger, dough onto flour for shaping. Stretch and fold each side (one at a time) all the way across the surface of the dough, and then tuck all of the creases underneath the dough ball. Sprinkle your bread basket (or your scraped clean glass bowl) with more gluten free flour and set your shaped ball of dough upside down inside, then cover with towel or bread basket cover. I have also had success here with wetting my hands and the working surface instead of flouring it. See what works best for you! (I'd love to read in comments)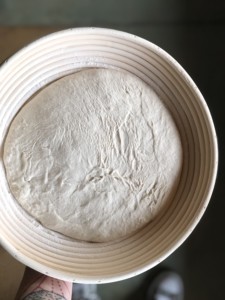 Let proof for another 60-90 min, depending on the temp in your house. One hour before baking heat your oven to 450F and put your dutch oven with the lid on in your oven to heat up. To test to know it's ready, gently poke with your finger. The indent should slowly rise, but not bounce back immediately. You've over-proofed if it just deflates and doesn't slowly rise back.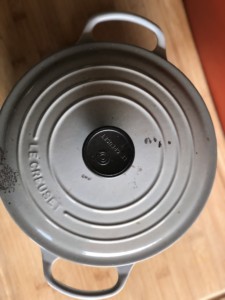 About 8am: When it's bake time, flip your bread (creases down) onto a piece of parchment that's larger than your loaf. Score 4 lines about 1/4 inch deep from outside to middle (not connecting in the middle though). Then, to get a nice chewy crust, pour about 1/8 cup water in your hot dutch oven, and then gently lower the loaf into your pot using the sides of the parchment paper, which will bake with the loaf creating a barrier between the bread and water (careful not to splash hot water on yourself or get it on your bread). Bake at 450F with the lid on for 30 minutes, then remove lid and bake at 450F for another 10-15. Remove from oven, tap bottom and if it's a hollow sound, you're spot on!
About 8:45am: LET COOL FOR AT LEAST ONE HOUR. I MEAN IT. Slice, feel proud, and ENJOY!
I'll store my loaves in a bees wax loaf wrapper at room temp, but they rarely last more than two days because we eat them up. If you have more than you can eat before it goes stale, slice and store in a ziplock in the freezer. Toast a slice up and it tastes like it's fresh!
A Note on half loaves I've been baking:
I use THIS 2.25 qt Le Cruset pot
half all ingredients
same prep times
same proof times
1st bake: 25 minutes
2nd bake: 5-7 minutes
ENJOY!!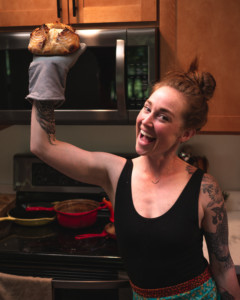 Stay tuned for a full video guide, along with special sourdough recipes coming soon (search "sourdough" on this site for everything I've shared so far)! I'd love to hear from you. Who's baking? I'd love to hear your sourdough stories, experiences, wins, and lessons learned. Let's connect in comments!