Savory scone anyone? Cheesy, salty, prosciutto filled grain free scones, to be exact. I never thought I'd see the day that I'd taste a truly kick ass and also grain free scone. But that day has come, and it's thanks to Otto's Cassava flour. I love this flour, friends. I use it in my final sourdough shaping (because it doesn't need to be fermented for my belly to happily digest and absorb). I use it in Evie's favorite pancakes. I've used it to bake for years, and I am so grateful for a substitution that allows for grain free versions of all of our comfort food favorites.
I'll be honest, I'll pick salty over sweet any day, and I mostly leave the sweet baking to my sweet baking husband. It's that love for sea salt, for cheesy goodness, and obviously prosciutto that inspired this delicious recipe. Enjoy it for breakfast with a fried egg or as an accompaniment to your favorite stew or chili. May I recommend my sweet and squashy turmeric chili? And speaking of turmeric, these beautiful scones get their golden tint from inflammation busting turmeric and a pinch of paprika.
I hope you love them as much as we do!
Savory Scones
Servings: 6
Difficulty: moderate
WHAT YOU NEED:
1 cup Otto's Cassava Flour
1/2 tablespoon baking powder
1/2 tsp sea salt
1/4 teaspoon each of turmeric, paprika, and garlic powder, and (optional) a pinch or more of chili powder
1 teaspoon thyme, dried or fresh
1/4 cup COLD grass fed butter or ghee, plus 1 TB melted
1/4 cup buttermilk (or 1/4 cup half and half and 1 teaspoon of lemon juice, stirred together 5 minutes before starting)
1/3 cup grated cheese of your choice: we love gruyere, jack, and/or cheddar
1/4 cup fine grated parmesan
4 strips prosciutto, diced
WHAT YOU DO:
preheat oven to 450 F.
stir together the flour, baking powder, salt, and seasoning in a large bowl, and with your fingers, cut butter into flour mixture until evenly crumbly throughout, then stick it in the freezer for 5 minutes. Add the buttermilk, stirring just until dry ingredients are moistened (I use my hands here).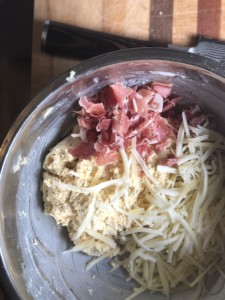 fold in the prosciutto, onion, and grated cheese (reserve 1/2 of parmesan) until it's all evenly dispersed.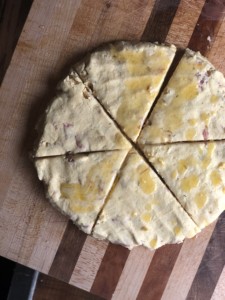 ball the dough up and press it out on a cutting board into a circle so it's about 1″ thick. Then, cut circle into 6 wedges and place them on a baking sheet about 1-2 inches apart, then brush tops of wedges with remaining  TB of melted butter and sprinkle with remaining parmesan cheese. Bake at 450° for 15-17 minutes or until golden.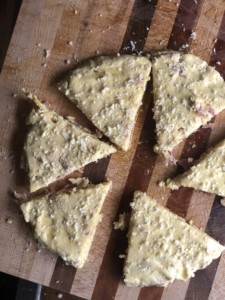 ENJOY! These are great hot out of the oven or cold over the course of the week. Store them in the fridge for safe keeping.
Who's baked with Otto's? I'd love to hear in comments. And you can always search my website for all things grain free using the search bar. Enjoy!