Hi there! It's time share all things water filtration and why we chose Berkey for our family. We've been using it for about a month now, and two things are very clear: the water tastes AMAZING and we're drinking way more of it (two wins right off the bat). I figured, I'd start with some FAQs based on questions I've received since starting to share over on Instagram…
FAQs
How does a Berkey filter work?: The system is made up of 2 chambers and 2 to 8 Black Berkey filter elements, depending on what you choose. You pour your water into the upper chamber, which houses the filters, and then gravity pulls the water downward through them. These filters have microscopic holes that allow the water to pass through while blocking contaminants and sediment, leaving you pure delicious water.
What contaminants does a Berkey remove?: It filters out sediment, rust, organic and inorganic contaminants like bacteria and viruses, parasites, cysts, heavy metals, chlorine, chloramine, radiological contaminants, and chemicals. Plus, funky tastes and smells (see lab results here).
Does Berkey leave in the healthy minerals?: YEP!
Does the Berkey soften hard water?: Nope.
How long does it take for Big Berkey to filter water?: It's dependent on the size you get and how many filters (we have the travel sized one), but I can say that as the water level in the top goes down, the flow rate also decreases, so it's best to fill it all the way to the top and keep refilling it often.
Is it tough to assemble a Berkey filter system?: Rusty did it on his own in just a few hours on a chill Sunday (with pauses in there to let the water filter). First, he primed the filters by flushing them with water. Then, he placed the black filters in the upper chamber and secure them with the provided wing nuts and washers. Finally, he attached the spigot to the lower chamber, placed the top chamber on the lower one, and we were good to go.
How long do Berkey filters last?: Each has a life of 3000 gallons.
Can the Big Berkey be used to filter water from rivers or lakes in the event of a disaster?: Yes it can! Rivers, ponds, lakes – almost any kind of water can be used (but not ocean water).
More questions for me? Ask away in comments!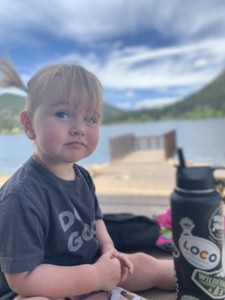 If you care about the quality of your food, your sips, and what you put on your skin (well, even if you don't), it's important to consider the water your family drinks. We've found the Berkey to be a super simple way to not only know that we're drinking the purest water, but also to LOVE that water because it has a taste that's unparalleled to any bottled water we've had. It also help the environment, skips unnecessary purchases (hello, year of the budget), and keeps us hydrated and well through all seasons. As always, when support my business by using my links, we're so grateful! I promise to only ever share products we truly have tried, loved, and use in our daily lives. We fill our water bottles with our Berkey filtered water for every adventure, and we sure are grateful.
That's all for now. I'll likely keep adding, thoughts as we love it more. In the meantime. I'd love to hear your thoughts. Who's tried a Berkey? What's your take? Share in comments! Thank you for reading, friends.
Hugs, friends!
♡ Laura