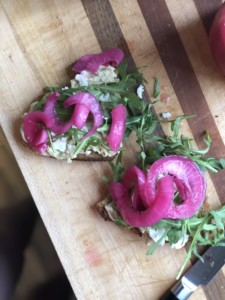 This one makes me think of my pink loving little one, and because of that, it will always make me smile. You should've seen her face when I showed her the jar of bright pink pickled onions for the first time. Instant light. Instant Smile, and a big giant "PIIINK!". I think we could all use a little more light, smiles, and pink right now through this COVID-19 situation.
We've set an intention to find silver linings in the day to day moments. We could only find a huge bag of organic red onions, so instead of turning lemons to lemonade, we're turning onions into pink pickled onions and sharing these delectable morsels with you. Probiotics, prebiotics, and SO MUCH flavor. I've enjoyed them on sourdough avocado toast, big ass salads, and even on pizza.
Enjoy, friends! Sending love and health through this season and beyond. Because there will be a beyond.
Pink Pickled Onions
Servings: many
Difficulty: easy
WHAT YOU NEED:
1 large glass mason jar with lid
2 red onions, peels and sliced into rings
2 cups water to boil
enough apple cider vinegar to cover them in a jar (about 1 cup)
1 tsp sea salt
1-2 tsp honey (we love Beekeepers Naturals B-Powered Honey for it's nutritive impact and flavor!)
WHAT YOU DO:
bring water to a rolling boil and pour over sliced onions in a colander to blanch them.
add onions to your mason jar and add honey and sea salt and then enough vinegar to cover them completely when pushed down into the jar (really press them together).
top tightly with lid, shake it well, and let sit at room temp for 45 minutes.
eat right then and/or store remaining onions in the jar in the fridge.
ENJOY! These just get better with time but they've never lasted more than a week in our house. 
What silver linings have you found lately? I'd love for you to share in comments! Hugs, friends!