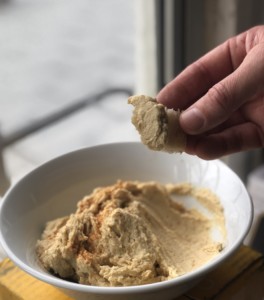 I love hummus. A lot. On sourdough. As a salad topper. With cheese and prosciutto. Shoot, even just with a spoon. With the current shelter at home situation in place (and with how quickly I go through containers of it), I decided it was time to make some myself, and wow am I glad I did. It's delicious, WAY more affordable, and better for the planet too.
Most hummus recipes you'll find will require a food processor, but we don't have one so blender hummus it is! It's still possible, just as delicious, and just a little bit chunkier. Turns out, I prefer it that way. I hope you love this hummus as much as I do. Enjoy!
Enjoy, friends! Sending love and health through this season and beyond. Because there will be a beyond.
Homemade Hummus
Servings: many
Difficulty: easy
WHAT YOU NEED:
1.5 cups chickpeas, either from a can or dried ones that you've soaked overnight and then simmered on low for about 90 minutes until soft
juice from one large lemon
1/4 cup tahini
2 tablespoons cup extra virgin olive oil
1/2 tsp ground cumin
1/2 tsp ground paprika
2 tsp +/- sea salt (to taste)
1-2 tablespoons filtered water
WHAT YOU DO:
add tahini and lemon juice to your blender and blend until combined and smooth, about 1 minute (this might require pauses to scrape down the sides).
add the olive oil and spices and blend for another 30 seconds.
add about 1/2 the chickpeas and blend until mostly smooth, and then add the remaining, and blend again until you have a pasty hummus.
depending on desired chunkiness, continue to blend, pouring in 1 tablespoon water and then more until you have desired consistency, adding more salt to taste.
ENJOY! Store in an airtight container up to a week if they last! 
If you make this, I'd love to hear your thoughts! Happy hummus-ing, friends.