There is something about homemade pizza night in, paired with a good movie and extra quality family time, that brings a unique kind of joy. Since Willow (our sourdough starter) has become an important part of our lives (along with sourdough bread, Evie's sourdough pancakes, and the many other recipes in my soon to launch ebook), pizza night doesn't require takeout or leaving the house. And I can honestly say, that after months of experimenting, this is truly the best pizza I've ever had.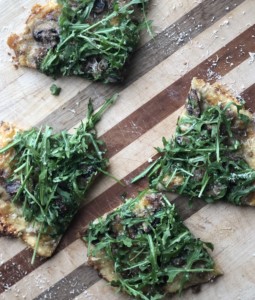 The recipe comes from months of pizza eating (not complaining), from feedback from my pizza-loving husband, from playing around with ratios, baking times, temps, and topping fun. And after all that, I am SO proud to bring you this recipe in hopes that you, too, will get to share pizza night with the ones you love.
Sourdough pizza crust takes things to the next level. After years of eating gluten free and needing to mostly avoid my favorite food, I knew that this would be the first thing to tackle with my sourdough starter discard. There are many benefits from using fermented sourdough for this pizza base, and I love that this crust typically ferments for at least 24 hours, giving it extra probiotic properties, extra reduced gluten, and extra delicious flavor.
Cheers to pizza nights with the ones you love, food freedom,  and memories that will last forever.
Sourdough Pizza
Servings: 3
Difficulty: moderate
WHAT YOU NEED:
108g room temp water
55g starter
180g flour (we love ⅔ einkorn flour and ⅓ organic white flour)
15g sea salt
10g olive oil
toppings of your choice. Our favorites: pizza sauce (or upgrade with Primal Kitchen alfredo), mozzarella, sautéed mushrooms, Italian heritage pork sausage, parmesan, and fresh arugula + a sprinkle of fresh parm after it's done
WHAT YOU DO:
12-24 hours before you want to enjoy pizza (we love a 24-hour ferment), add water and starter to bowl and mix gently with your hand.
add remaining ingredients and gently mix with hands until combined.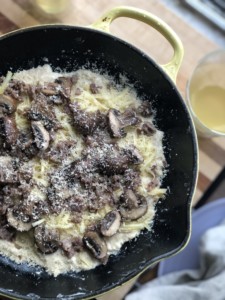 cover bowl with airtight lid and let sit for 12-24 hours (if plans change, because life, just pop it in the fridge for up to 3 days and then pull it out 3 hours prior to pizza time to get to room temp).
when it's time for pizza, set oven to 475F and move dough to floured surface (we use gluten free flour here) and knead with your hands for a couple minutes.
separate into 2-3 small doughs if you want personal pizzas or make one larger pizza to share, then very gently stretch dough by holding one side and letting it slowly stretch down into a round crust.
once that's met it's full stretching, lay on parchment paper on a baking sheet (or better yet straight onto a pizza stone or cast iron if you have either) and gently spread with your fingers until you have a nice thin even crust. If it's sticky, wet your fingers with a little water.
add sauce, cheese and favorite toppings and slide into the oven. Don't open the oven for 12 minutes.
then, check it, and once your crust is lightly browned on the bottom and your cheese is bubbling, remove and try to wait long enough to not burn your mouth.
*pro tup: cast iron pizza is OUTSTANDING. Turn your stove top to medium heat and wipe a little olive oil all over the pan and gently spread your pizza out and add toppings; bake as usual, then after 8-10 minutes cover with a lid and let it go another 5 to get crispy and perfect on the bottom. TRUST.
ENJOY!!
If you make this, I'd love to hear your thoughts! This is my current absolute favorite recipe. Pizza night brings us so much joy, and my only wish for this recipe is that it does the same for you. I'd love to hear what you think in comments! Or if you share on social media, please tag me! Sending love, friends!