I get asked all the time about Evie's first foods journey and what she eats now as a toddler (woah, when did that happen?). The reality is that she eats what WE eat, and it's been that way from the start. Doing more of a baby led weaning approach (our own version, because I am not one to subscribe to any specific dogma) has been simple, successful, and honestly, really fun. A huge part of this, though, has been that we are very intentional with the foods we eat, ensuring we nourish ourselves so that when that tiny hand reaches for food off of our plates, we are happy to oblige.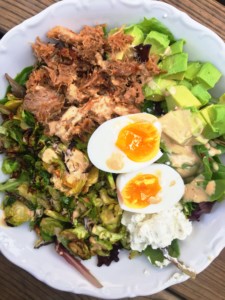 This recipe is inspired by my dear friend Jordan after a couple of days hanging and savoring with her family in Bonny Doon last weekend. She served us a lunch of crispy pulled pork over a delicious salad, and it was DIVINE. Evie chowed the pork, and I couldn't stop thinking about it for two days. So, I decided to give it a go myself. And now we have another toddler favorite: loaded with nourishing fat (try to go with pastured pork if you can), delicious flavor, and high quality protein. This is the perfect accompaniment on a plate loaded with veggies, which is another plus. We enjoyed with chili roasted brussels, homemade aioli (recipe below), jalapeño goat cheese, and avocado all over mixed greens. It was dreamy, and I hope you enjoy it too.
Affordable, easy, great for van life or a fancy kitchen, and pleases every toddler that's tried it. Enjoy, friends! ♡
Toddler Approved Crispy Pulled Pork
Servings: 6+
Difficulty: moderate
WHAT YOU NEED:
*For the aioli (I had many asked, so here you go!): mix approx 1-1 combo of Primal Kitchen mayo and Hot & Spicy Noble Made.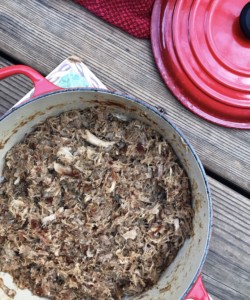 WHAT YOU DO:
4-12 hours before it's time to cook, throw your shoulder into a freezer bag or glass container and cover on all sides with 1 TB apple cider vinegar, 2 TB olive oil, and all of the sea salt, coconut sugar, and minced onion.
when you're ready to prep (I like to start in the morning so I can eat this for brunch and dinner and so my van smells like pork all day), set a pot on the cooktop and turn to medium/high heat.
chop shoulder into big chunks (about 2-3″ but it's not a science, folks)
once hot, drizzle remaining olive oil in pot, and throw in your pork chunks, stirring so all sides get a nice sear.
then, add lemon juice, remaining vinegar, another TB or so of sea salt, and just enough water to cover meat chunks
set to a full rolling boil, reduce to simmer, and cover for 1 hour
after an hour, remove the lid and continue to simmer until liquid really starts evaporating, stirring every 29 minutes
once liquid is gone, you need to give it some love; stir frequently so the pork doesn't stick as it gracefully fries in its own fat (oh the beauty)
once crispy and perfect, salt if needed, and eat it hot! ENJOY every bite
Thoughts or questions? Leave a comment below. I hope you enjoy this as much as we do! It's great for leftovers and SO versatile: pork and eggs for breakfast, pulled pork salads, wraps, and more! Happy eating!
♡Laura