I've been sharing a lot of our sourdough adventures over on Instagram, and the feedback has been awesome. As I mentioned, I'll be sharing my loaf how-to in the coming weeks (and I'll be sure to link it all here too), but for now, here's another family favorite that I threw together one morning when Evie asked for pancakes right as I was discarding and feeding Willow (she's our starter).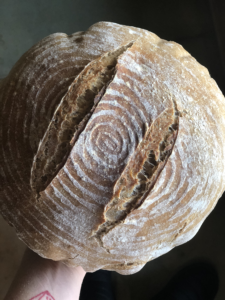 No starter, but wanting to begin your own sourdough adventures? Check out my friends at iii Rivers Farm. You can buy an organic sourdough starter and let the fun begin. I will say there's a special joy and mindfulness in baking something fermented, nourishing, and delicious for my family.
Note: Evie and I both have gluten sensitivity, but the fermentation process in sourdough drastically reduces the gluten, and we have no issues enjoying it. I made this recipe even more reduced gluten by making them with gluten free and almond flour.
Evie's Sourdough (mostly gluten free) Pancakes
Servings: 2
Difficulty: easy
WHAT YOU NEED:
WHAT YOU DO:
combine starter, egg, and melted butter and mix until combined
add remaining ingredients (except water), and stir until combined, adding water until desired consistency
heat pan to medium low, add a little butter, and pour batter into desired pancake size
once you see little bubbles flip
when they're done, ENJOY! (Evie loves them with butter and a little Beekeeper's Naturals B-Powered honey)
Let me know what you think! What are your favorite breakfast meals? Happy breakfasting, friends.