Wow! What a weekend. I met some amazing new friends, caught up with old friends, ate some spectacular food, learned a lot, and played to my heart's content. The photo below (taken by the talented Paleo Fat Kid) pretty much sums up my feelings about the weekend. Paleof(x) was a spectacular weekend, and now that I have had some time to digest it all, I thought I would reflect on my experience, provide you guys with some reviews of the newest snacks, treats, and eats, and provide some insight into the latest in the real food movement.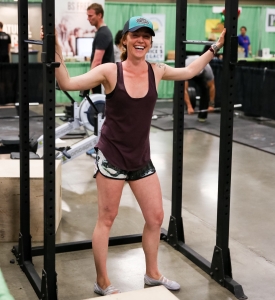 First, a BREAKDOWN of the weekend:
3 days; a plethora of talks to choose from presented by some of the most influential people in the Paleo-sphere; all kinds of vendors sampling the latest paleo foods and products (from pit paste and skin care to dog treats and paleo eats); fitness and play workshops; business owner networking and meet ups; and enough time for me to break away, find some peace and quiet and explore the magical city of Austin.
Now, let's talk TALKS:
After attending a number of talks on nutrition, mindset, and fitness, I came home inspired, excited, and determined to be on that stage within the next couple of years. Each speaker (ranging from Dr. Sarah Ballantyne, Diana Rogers, and Mark Sisson, to Eva T and the gentlemen from Barbell Shrugged, plus many more) presented with passion and insight unique to any conference I've been to. What stood out to me most was the passion and enthusiasm that filled every inch of the Palmer Center. Another thing I took away was how amazing it is that so many of the speakers actually had such different opinions on similar topics. Yes, it is a Paleo conference, but there is NO single right or wrong, black or white way to live the Paleo lifestyle. Every body is different; every person needs his or her own unique protocol on everything from nutrition, macros, and meal timing to fitness regime, stress relief strategies, and types of play. And what's even better? That's totally OK. That's what makes this community so great. We can agree to disagree at times, but everyone can agree on one thing… health and quality of life are key to a happy life.
Another aspect and running theme amongst many of the talks was this idea that sustainability is more important than aesthetics. Diana Rogers rocked a shirt that said "Sustainability > Abs", which I found to be just too perfect. In a world where people often get so caught up in aesthetics that they forget about what really matters – their own health and this world we are living in – seeing and hearing a more sustainable, ethical, and healthful theme across the board at Paleof(x) was pretty inspiring and totally in line with where this blog and my passion are going.
Don't forget the latest PRODUCTS:
Below is a list of my top picks from all of the items I tasted and tested at Paleof(x). I've included links too, for your browsing pleasure. Stay tuned for a few separate review posts, along with some kick ass giveaways in the coming month.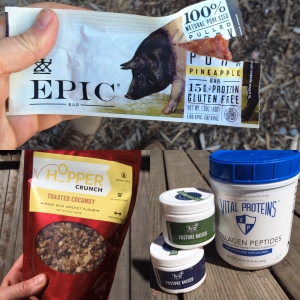 Some old favorites:
Organic Gemini Tigernuts – (an old favorite from THIS post) Mariam and George were sampling their horchatas, including a new green horchata that is delicious (all the nutrients of a green juice, but with a delicious flavor and no apple juice filler)
Vital Proteins (stay tuned for a giveaway on this one coming soon) – an amazing flavorless way to get nutrient collagen from grass fed cows into your diet every day! I use this stuff religiously in my tea every single day.
Otto's Cassava Flour – it should come as no surprise that I love this stuff (case and point: waffles, savory scones, blondies, and brownies. yum)
Some new discoveries:
Movement is Key:
In addition to all of the amazing food talks and taste testing, there was also a really awesome fitness and movement component to Paleof(x) because, as I've said before, Paleo is far more than food. I have a lot of experience in the world of CrossFit, and to me (and so many of the people I work on a daily basis) CrossFit is a form of play; it's functional fitness that can be an enjoyable escape from a hectic life. I did, however, still come into a couple of different fitness workshops with a totally open mind because no matter what, there is ALWAYS room to learn and grow in every capacity. I started with an awesome biofeedback workshop with Jen Sinkler, that was very informative and played a lot into the functional movements I know and love. More on that HERE.
The movement workshop that stood out the most to me, though, aligns so well with THIS post on movement and play. It got me outside and playing in the sun for over 2 hou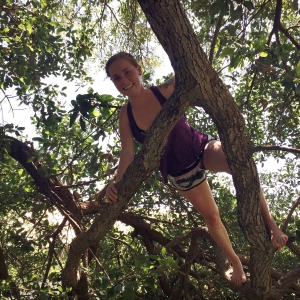 rs. And it put a smile on my face for the rest of the weekend (as a matter of fact, I am still smiling AND climbing trees daily). I participated in a 2 hour workshop with Rafe Kelly of Evolve Move Play, and it was absolutely awesome. We climbed trees, practiced movement flow, and connected on the importance of play. We discussed how at some point in human evolution all of things that kids do as natural forms of play have become considered misbehaving, and therefor scolded as such. The tragedy in this is that with the abandonment of true human play has come the loss of the movement that keeps humans healthy, mobile, young, and happy. My takeaway? Climb trees more, play in the grass, get outside. Exercise should be fun, in whatever capacity you do it. And shoes are totally optional.
Stay tuned for more on this. In the not so distant future, Rafe and I will be neighbors, and I plan on writing up a post highlighting the awesome things he is doing. For now, though, go check out his website for more info.
And, finally, some serenity: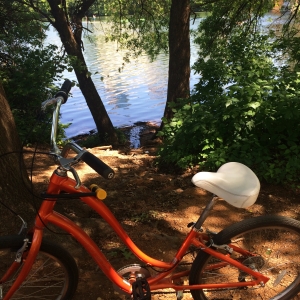 One of the best parts of this weekend was the "me" time I got from renting a bike and flying solo. Don't get me wrong, I adore my husband and friends, but it is important to get away sometimes, to fly solo, and to do some introspection. And this was a wonderful weekend for that. I had the chance to cruise around Austin solo (spending afternoons listening to live music at the greatest Whole Foods there is). I took time every morning to do yoga, meditate, and reflect. And I built confidence over the course of the weekend as I strengthened friendships (see a few of my favorite Paleof(x)ers below: Jen Sinkler, Paleo Fat Kid, Ashley Beaver, Mickey Trescott, and the Caveman Coffee crew), voiced my thoughts and opinions about all things paleo, mindset, and life, and felt validated in this journey I have taken on to learn, educate, and live radically different than the "norm". There is no better feeling than trusting the journey and simply knowing it's all right. So thank you for your support, and stay tuned for a great year to come! You guys help make this journey what it is.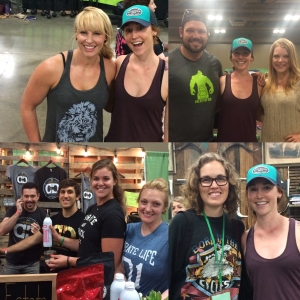 So, cheers to a successful Paleof(x) in 2015. I can't wait until next year! If you have any questions about the event or the products or people I mentioned, please leave a comment below. I am happy to answer!
Live rad, my friends.