It's about time I posted another dessert recipe… at least that's what my husband argued when it came time for some fresh recipe testing. Sometimes a splurge is necessary, and in cases like this, I would much rather enjoy a treat that's not filled with processed sugars, flours, and crap oils. That's why I keep developing these delectable recipes. A big part of life is the joy that comes from good food. Taste is one of the most important senses, after all, and a sweet bite once or twice a week (as long as you don't have any health issues that require a temporary abstinence from all things sugar) not only keeps us sane, but also brings a unique kind of joy that is hard to beat.
I love baking. it's soothing to me, especially when I get to turn those favorite sweets into more nourishing, and possibly more delicious versions of the original. In fact, every once in a while, I will find myself blinded by the stresses of life, when the next thing I know, I'm up to my elbows in butter, flour (alternative flour, of course), and some sort of real food sweetener, with the oven preheating and a kitchen filled with all of the most amazing smells. Weird? Maybe. Cheap therapy? Yup.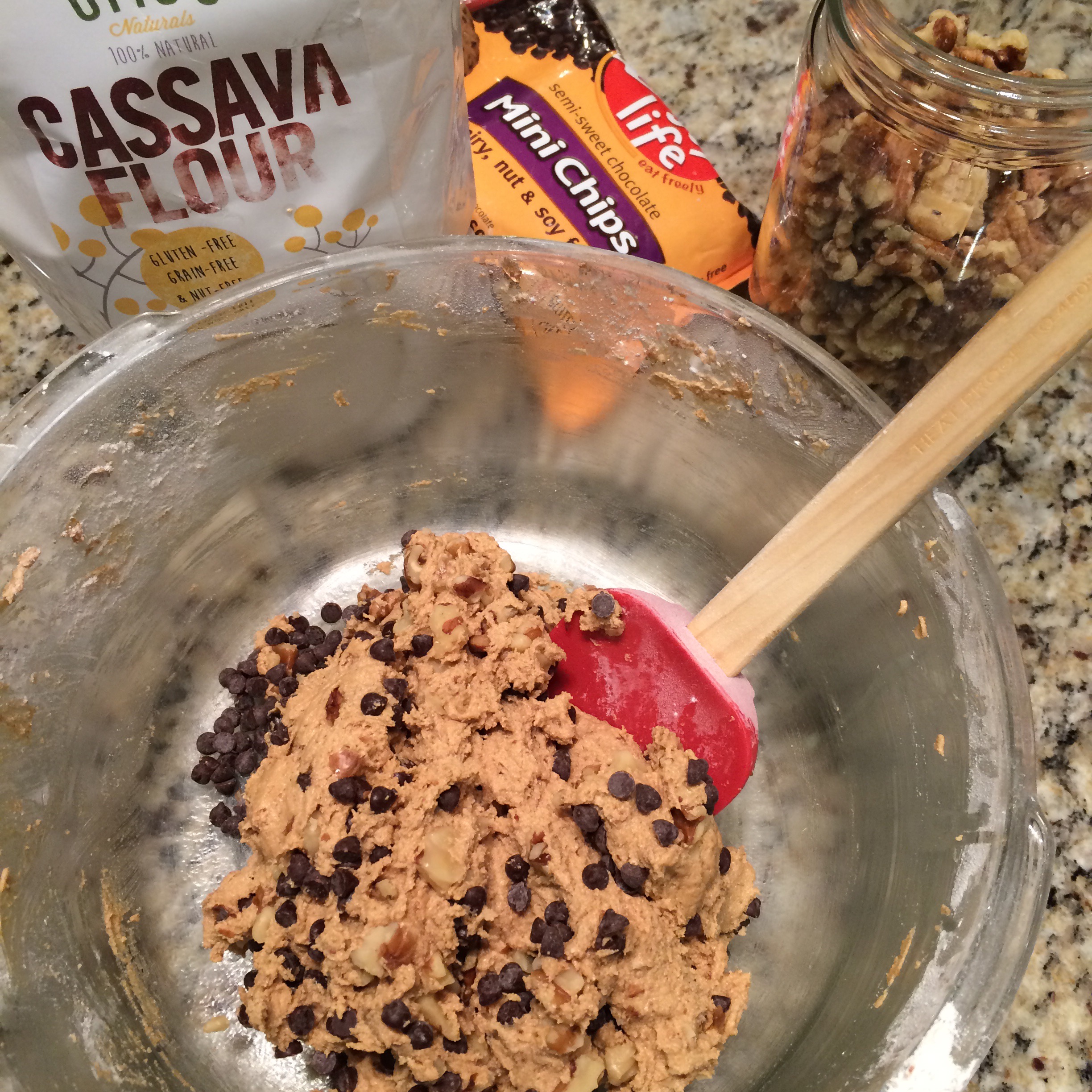 So what kind of alternative flour did I go for this time? Well, that was an easy choice after a package of Otto's Cassava Flour showed up on my doorstep last week. I didn't waste any time either; front porch to oven in about 30 minutes flat (perhaps that's some sort of a record?). Anyways, this flour is amazing. It can be subbed 1-for-1 for regular flour (in most cases), and after one taste of the dough from this recipe, I knew I had fallen deeply in love. It's also SO great to have a flour substitute that is not made from nuts. As we know, nuts in moderation and prepared properly can be a great snack, but consistently baking with these easily oxidized, energy dense foods can lead to some less than desirable outcomes, especially for anyone struggling with an autoimmune condition or a sensitivity to nuts in general. With Otto's that problem is solved. Though it is high in starchy carb (which some folks could actually use more of in their diets), this flour is low in sugar (only 1g of sugar in 100g of the flour), and there are non of the anti-nutrients of nuts, legumes, or grains. Cassava is the same as yucca, which has long been touted as a paleo-friendly carb source. Pretty cool, huh?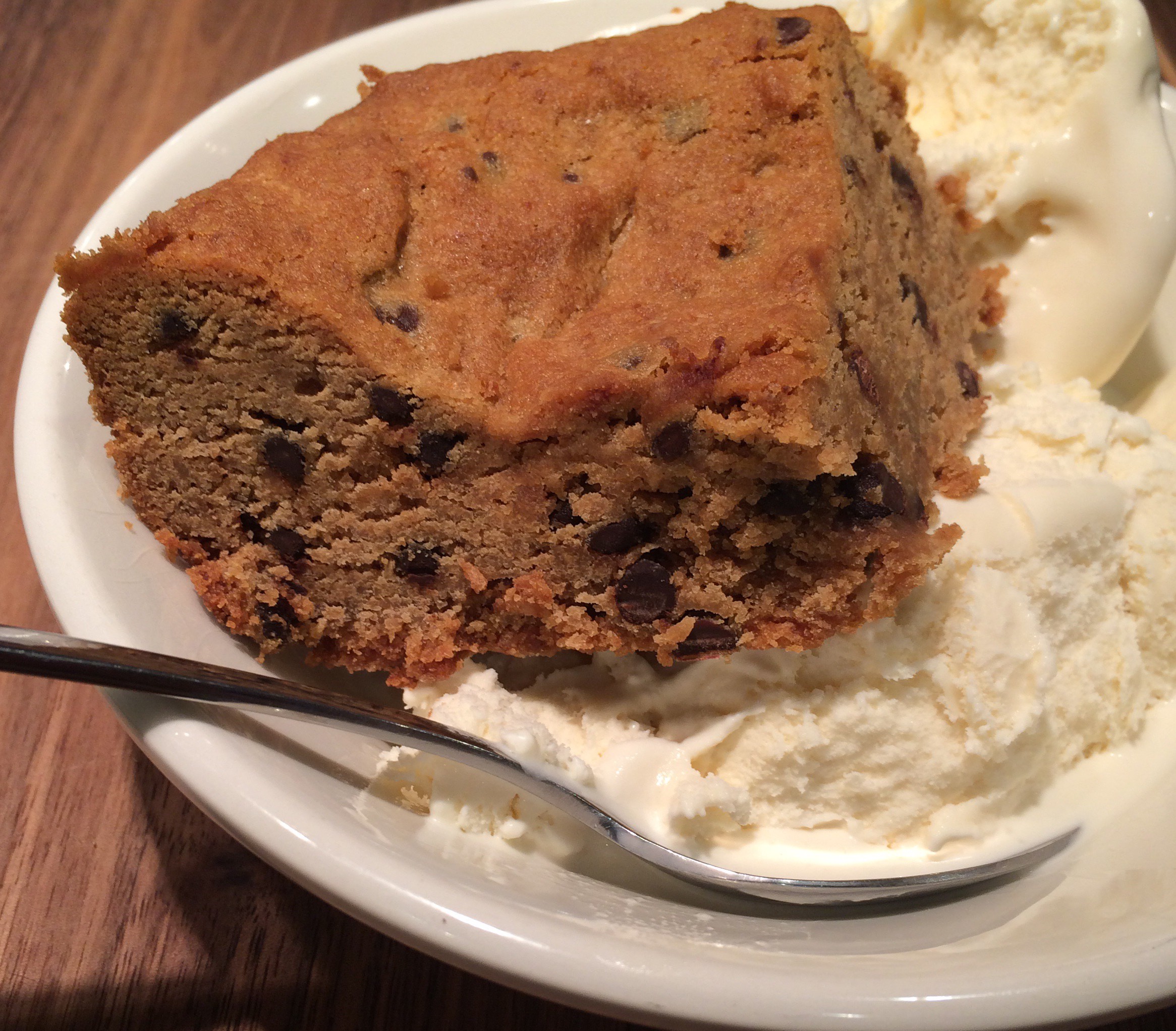 So let's get to business. What did I decide to make with my new favorite flour and lots and LOTS of delicious grass fed butter? Blondies of course. Never heard of a blondie? Well, just imagine a combination of moist, fluffy brownies and chocolate chip cookies from your childhood, and voila! The buttery blondie is born. One of my all-time favorite desserts (one of my husband's too, so it's no wonder we're a perfect match). So get yourself some Otto's, and as always. Recreate. Share, Enjoy! <3
Buttery Blondies (GF, NF)
Servings: 8
Difficulty: moderate
WHAT YOU NEED:
WHAT YOU DO:
preheat the oven to 350, and as it preheats melt your butter in an 8 x 8″ glass baking pan (don't let it get too hot, just melty)

pour sugar into a mixing bowl and add your semi-melted butter, leaving the residue in your pan to keep the blondies from sticking when you bake them

with a mixer, stir sugar and butter on high speed until it's nice and creamy (about 2-3 minutes)

now, turn the mixer on low, and add the vanilla, then the egg, mixing well and scraping down the sides of the bowl

in a small bowl, sift together the otto's flour, baking soda and salt

with the mixer still on low, slowly add flour mixture to the butter mixture until blended into a delicious dough (don't taste it or you'll never be able to stop and you won't have any to bake with (it's that good)

fold the chocolate chips and walnuts in with a rubber spatula

scoop the batter into the pan and smooth the top
bake for 20 minutes, being careful not to over-bake! A toothpick may not come out clean, but the top will be slightly browned
let it cool completely in the pan and cut into squares
ENJOY! We can't get enough of these but are sure to save them for special occasions. Yum!
What do you think? Please leave a comment below, or share this recipe with the ones you love. Thank you for all the love! It means the world to me. Cheers!
♡ Laura