As an active part of the CrossFit community and a life-long athlete of pretty much every team sport available to me as a kid, I have seen my fair share of sugary sports drinks, advertised, purchased, and handed out for their electrolytes and performance enhancement. The reality, though? It's all hogwash.
Look no further than THIS post from The Russells (CrossFit's defenders of the brand and all around brilliant debaters, advocates, and humans) to see why the entire concept of Gatorade and it's equals is complete crap. Not only is Gatorade (and other sugary drinks like it) guilty of causing a series of preventable deaths from Exercise Associated Hyponatremic Encephalopathy, but just 32 ounces of this "healthy" drink contains 280 calories, 220 milligrams of sodium and 76 grams of sugar. It's "a 'sports drink' marketed to appeal to Olympic couch potatoes" (Katz). And I haven't even gotten into the whole issue that the plastic bottles create, both for our health and the environment.
Now, not all electrolyte drinks are created equal, and there is benefit to staying hydrated (in the right quantities) and to fueling up with nutrient dense, electrolyte providing elixirs that can also keep immunity up, while replenishing lost essential minerals during physical exertion, sickness, childbirth, or any sort of trauma.
The drink I've created below is the later. With ingredients such as hibiscus, coconut water, pure organic orange juice, raw local honey, and Celtic sea salt, this replenishing concoction has all kinds of beneficial properties, and it tastes good too, without all of the crap they put into drinks like Gatorade.
Kick the sugar, dextrose, citric acid, "natural flavor", salt, sodium citrate, monopotassium phosphate, gum arabic, sucrose acetate isobutyrate, glycerol ester of rosin, and yellow 6 (actual Gatorade ingredients) to the curb and replace them with the beneficial ingredients below for a delicious drink that will keep everyone happy – mom, dad, grandma, the family athlete, and those rambunctious kiddos too.
So let's talk about what's in this:
Hibiscus Herbal Tea – is filled with antioxidants and has been used traditionally to maintain normal body temperature, support heart health, keep skin healthy, and promote circulation.
Organic Orange (juice and peels) – provides Vitamin C and regenerative glucose for the liver (and has been a huge hit with Ginger Nutrition's adrenal cocktail creamsicle)
Raw Local Honey – the raw aspect provides minerals, vitamins, enzymes, and powerful antioxidants and has been shown to bost anti-bacterial, anti-viral and anti-fungal properties; while the local component keep local allergies at bay
Organic Pure Coconut Water – The naturally occurring potassium, an essential electrolyte, keeps the body hydrated and provides vital minerals that are lost during any kind of physical exertion (from a tough CrossFit or a full day in the garden, to a suffering from a bad cold or stomach flu)
Celtic Sea Salt – provides 84 essential minerals that the body need to function properly (NOTE: this is very different from iodized table salt, which can be quite detrimental)
Bonus points for the fact that this is so easy to make because it doesn't last long at our house. With warmer weather approaching, and all the adventures of spring and summer to look forward to, whip up a batch or two of this electrolyte elixir and toss the Gatorade in the trash.
Recreate. Share. Enjoy… and as always, Live Rad!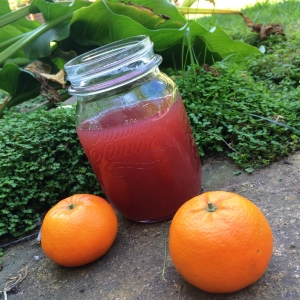 Electrolyte Elixir (GF, NF, DF, QCA, AIP)
Servings: 6-8
Difficulty: easy
WHAT YOU NEED:
4 organic hibiscus tea bags
the peels from 1 organic orange or 2 organic mandarines
1 cup filtered or spring water
1-2 TB raw local honey (depending on how sweet you would like it)
1/2 cup organic 100% orange juice
1/4 tsp Celtic sea salt or Himalayan pink salt
2 cups organic coconut water (no additives or sugar added)
WHAT YOU DO:
bring water to a boil, pour over tea bags and orange peels in a glass cup, cover and let steep for 1 hour
strain the liquid and put it in the fridge for 15-20 minutes to allow it to cool to room temperature
in the meantime, put the raw honey, fresh orange juice and salt in a large glass measuring cup, and stir until the honey has dissolved (this can take a few minutes)
add cooled hibiscus tea and coconut water to the orange juice mixture, and stir until all ingredients are incorporated
store in the refrigerator, and enjoy fresh within 3 days
On a warm day, it is great over ice or mixed with some sparkling water when you don't need to much sweet. And it's a great choice for you moms out there to give the kiddos when they need to replenish!
Let me know what you think! Have you kicked Gatorade (and the like) to the curb yet? What have you used as a replacement? Leave comments below. Happy adventures, everyone. And as always. Live Rad.