So it might be official: the BEST waffles I have ever eaten, paleo or otherwise. And even better? My husband agrees. And he is a breakfast connoisseur. The guy knows his breakfast, and he is not messing around when he says that these make the list of the top 3 ever waffles he's EVER had. Woah. Big deal in the Bruner household.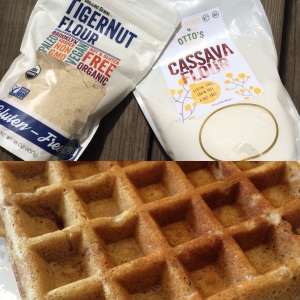 You've already heard (or read) me raving about both Otto's Cassava Flour and Organic Gemini Tigernut flour (Read HERE or HERE). So, it's about time I put the two together. These flours are definitely not interchangeable, which makes them a match made in heaven because the texture of each compliments the other in a beautiful way, especially in this recipe. The nutty texture and sweet flavor of the tigernut flour is a perfect addition to the fluffy, pure base that the cassava flour creates in this recipe (it's really close to white flour). You get all of the best parts of a real waffle, without any of the bad. In fact, you aren't just avoiding the bad, you are actually getting some great nutrients in by enjoying a waffle or two. Plus, nothing brings people together like a delicious breakfast. So go ahead enjoy. Don't just take my word for it, though. See for yourself!
It took a couple of tries, but the result is SO worth it. These waffles are crispy on the outside with an inside that is gloriously moist and fluffy. When I ripped into the first one I knew we had done it, as I saw a small burst of steam and that picture perfect waffle texture. Sigh…. It makes me smile just thinking about it. But that's enough talking, scroll down and see for yourself. Hey, maybe SOMEDAY (maybe) these waffles will be world renown. After all, this whole REAL FOOD movement is really picking up steam. And that in itself is reason to celebrate. So, why not do that celebrating with a batch of the most delectable, winningest waffles ever.
Oh and if you're into eggos, this is going to make you happy. These waffles reheat beautifully! We've started to make a full batch (or sometimes a double batch) and then pop the waffles into the freezer once they've cooled (in a glass tupperware). They warm up and stay crispy in the oven. Just set the oven to 350F and put them in right away. As soon as the oven  hits 350F they're ready. You can also reheat them in the waffle iron. We love having them in the freezer for quick weekday breakfasts!
Recreate. Share. Enjoy… And as always, Live Rad, my friends! Cheers.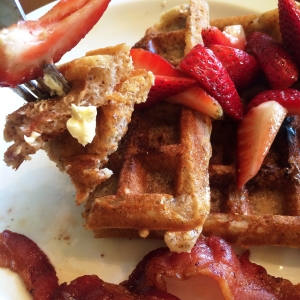 Should Be World Renown Waffles (GF, NF, DF option)
Servings: 4
Difficulty: easy
WHAT YOU NEED:
1 1/2 cup Otto's Cassava flour
1/2 cup tigernut flour (almond meal also works well here)
1 tsp gluten free baking powder (or sub a mix of 1/4 tsp baking soda + ½ tsp cream of tartar)
1/2 tsp baking soda
1 tsp sea salt
2 cups whole pastured milk or full fat coconut milk (I used local raw whole milk)
2/3 cup grass ged butter or ghee (coconut oil can work here, but it changes the taste a bit)
2 pastured eggs
1 TB coconut sugar
1 1/2 tsp vanilla extract
SERVING OPTIONS: grass fed butter or ghee and pure maple syrup syrup, chocolate chips (sprinkle in when you pour batter into waffle maker), your favorite nut butter for spreading, OR leave out the coconut sugar and maple syrup and use as a savory waffle to pair with THIS chicken or as the bread for a breakfast sandwich
WHAT YOU DO:
combine the flours, baking powder, baking soda, and sea salt in a medium bowl
add the milk, butter, egg, coconut sugar and vanilla and mix well
now, let the batter sit for 15-20 minutes, while you preheat a waffle iron
don't spray or grease the waffle iron (the butter serves its purpose beautifully)
follow the directions on your waffle iron to cook the waffles (this will vary)
serve immediately with toppings of your choice and ENJOY!
We eat them as they come off the iron because they are that good, but you can also keep them in a warming drawer or in the oven set to 200F if you want to serve a large group at once.