Close your eyes and imagine the taste, texture, and crunch of biting into a crispy, flavorful cracker smothered in the spread of your choice (for me it's fresh sheep's milk cheese). Damn, I missed that… That is until now.
If you've switched over to a mostly grain-free, whole food lifestyle, you might be able to relate.
Well, I've got you covered. At the bottom of this post is a recipe for delectable, crispy crackers that are grain free, nutrient dense, raw (thanks to dehydration), and EASY TO MAKE. Yes, you can do it. I believe in you. But before you scroll down, read the recipe, and run to the kitchen, read on. I think you'll like what you read, and it will only fuel your fire to make these crackers and enjoy that sought after crunch.
Let's talk why… Why dehydrate? Why keep the ingredients "raw"? Why choose the ingredients that I dd?
Let's start with the ingredient list. With a mashup of fresh local kale and onion, sprouted pumpkin seeds, chia seeds, tigernut flour, organic spices, lemon juice, and mineral rich Celtic sea salt, these crackers not only provide a delicious crunch, but also a powerful nutrient punch (see what I did there?).
Local veggies (straight from my garden in this case) provide Vitamins A, K, C, the Bs, along with Manganese, Calcium, Copper, Potassium, Magnesium, and anti-inflammatory properties.
Pumpkin seeds provide Zinc (crucial mineral for our bodies to function and great for prostate health in men), manganese, phosphorus, magnesium, copper, and calcium. Plus, they contain phytoestrogens which is essential for female hormone regulation. Also, because they are sprouted, you get more of a nutrient punch while ridding the seeds of their phytic acid content.
Chia seeds provide omega-3 fatty acids, which are important for brain health (they convert better than flax – but not as well as wild caught seafood sources).
Celtic sea salt provides 60 essential trace minerals that our body needs to survive and thrive, powerful electrolytes, trace elements to help with adrenal and thyroid function, and digestive enzyme enhancers (not to be confused with iodized table salt).
Add
tigernut flour
as a pre-biotic, nutrient dense binder and some of your favorite
organic spices
, and this delicious little crackers are a slam dunk. With a list like that, we want to keep each of these nutritional powerhouses at full effect, which is where the dehydrating comes into play. Dehydrating is kind of like freezing in its ability to preserve nutrients, but clearly, it offers better palatability (remember that crunch we envisioned moments ago?) and versatility (crackers are one of this world's greatest food vessels). Dehydrating also removes moisture, which inhibits the growth of germs and molds, allowing for those fresh ingredients to last much longer. Plus, if you take this whole
paleo
thing seriously, this is a food prep method for you!
After all, "while they surely were unaware of vitamins, through intuition and experience our ancestors discovered that drying is suitable for only a few types of vegetables. On the other hand, it is perfectly effective for most fruits, mushrooms, certain herbs and fish"

(1).
Our ancestors didn't have a dehydrator, and well, neither do I. So, I went to work to get the same result in my own kitchen. It's a simple process. All you need Vitamix (food processor or blender are fine), an oven, a baking sheet, some parchment paper, and plenty of patience, and you're set to make your own delicious crackers for the rest of your life. Rad, right? And just think, while you make them, you can embrace your inner caveman (or woman) too.
Eat Well and Enjoy! And as always, Live Rad.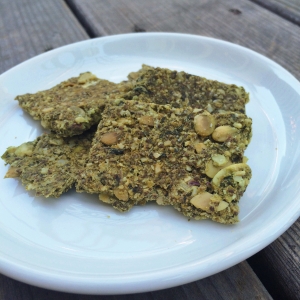 Super Simple Sprouted Seed Crackers (GF, NF, DF, QCA)
Servings: 20+ crackers
Difficulty: easy
WHAT YOU NEED:
1/2 cup sprouted pumpkin seeds
1/4 cup tigernut flour (almond flour will also work here)
1/4 cup chia seeds
1 small spring onion (or 1/4 cup chopped sweet onion)
3-4 stalks of organic kale
1/2 tsp dried or 1 tsp fresh chopped basil
1/2 tsp rosemary
1/2 tsp oregano
1/2 tsp thyme
a pinch of garlic powder
1/2 tsp + a sprinkle of celtic sea salt
1/2 cup water
1 TB fresh lemon juice
WHAT YOU DO:
set your oven to 105-118 F*
put all ingredients except the extra sprinkle of salt in your Vitamix or food processor
pulse until combined but not puréed (you want some seeds visible and a nice crackery texture)
lay out some parchment paper on a baking sheet and plop your "dough" on top
spread it out evenly to your desired thickness (I made mine a nice square shape to have square crackers)
sprinkle with a bit more sea salt and place them in the oven
after one hour, pull them out and score the crackers with a butter knife so they will be easy to break apart once crispy
put them back in for another 2 hours, and then take them off of the parchment paper and place directly onto the baking sheet
after another hours or so, break them apart where they have been scored and flip all of your crackers, then put them back in
check on them every 30 minutes or so, and once they've reached your desired crispiness, take them out to cool all the way
store in an airtight container and enjoy on the go, with your favorite raw cheese, or as a spread for some homemade liver paté!
*My oven only goes as low as 170F, so I jerry rigged my oven to stay open with three rubber bands and some creativity in order to keep the temperature low enough. There's not a perfect science to this, and they will turn out well, even if you have to get creative too. Enjoy! 
Let me know what you think! And post a picture with your favorite shmear on these delectable crackers (tag #radicalroots for a repost!). Cheers!