It was just like Christmas morning last week when a giant package showed up on our doorstep from US Wellness Meats! Check these beauties out! My personal favorite is the giant tongue. Who knew beef tongues were that huge!?
So hopefully at this point I haven't lost you. Stay with me so I can help you understand WHY I ordered a giant box of organ meat (all grass-fed, of course). I have been having a lot of fun geeking out recently about how food can truly me medicine, fixing any ailment and preventing any future conditions or sickness too.
What I have come to find is that organ meats from grass-fed animals are the most concentrated source of just about every nutrient
vitamins – awesome amounts of  B vitamins such as: B1, B2, B6, folic acid and the very important vitamin B12; 

the important fat-soluble vitamins A, D, E and K; and some of the highest concentrations of naturally occurring vitamin D of any food source

minerals – 

phosphorus, iron, copper, magnesium, iodine, calcium, potassium, sodium, selenium, zinc and manganese

essential fatty acids – arachidonic acid and the omega-3 fats EPA and DHA
essential amino acids –

 rich in the amino acids glycine and proline, which are essential for connective tissue health, join health and digestive health
Here is more information from Chris Kresser's Health for the 21st Century…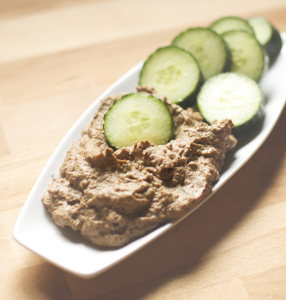 And here is a great resource for even more ways to get these super foods into your diet!
Now, onto the fun stuff…. how did I manage to prep this in a way that I would enjoy it, and more importantly, Rusty would at least try it? Well I found the answer, and he didn't only try it, he enjoyed it too! The best part? We had leftovers to experiment with all week, which led to my proudest kitchen accomplishment (which will be shared in a recipe later this week, so hold tight!).
First and foremost, here's a recipe to help improve (or for some of you HIDE) the liver taste…
Bacon Liver Pâté
Servings: 10
Difficulty: moderate
WHAT YOU NEED:
1 cup milk (weird I know, but bear with me)
1/2 lb bacon (nitrite, nitrate free from pastured pork) – we like Pete's Paleo bacon!
1 yellow onion
1 -2 TB minced garlic in oil
1 1/2 TB dried rosemary
1 1/2 TB dried thyme
celtic sea salt and pepper to taste
WHAT TO DO: *YOU NEED TO START THE NIGHT BEFORE!
the night before you are going to make this, soak your liver in the milk in an airtight container…. mmmm pink milk
the next day, pull out your bacon, slice it up and cook it in a pan (SAVE THE BACON FAT)
while the bacon cooks (if you can multitask) dice up your onion
when the bacon is done, remove from the pan and set it aside on a paper towel to cool
dump most of the bacon grease into a container to save for later
in the same pan, cook your onions until translucent, then add the garlic and stir for 1 more minute
dump this into your food processor or Vitamix!
now pull out the liver, rinse it, and pat it dry with paper towels
add a little more bacon fat to the pan, and lay in your liver
sprinkle half of the rosemary, thyme and a sprinkle of salt and pepper
flip it over and do the same to the other side
let it cook about 5 minutes on each side, until cooked through but still tender (I sliced mine through to check to see if it was done)
once it's done, throw it into the Vitamix with your onions and garlic
add a little more salt and pepper and a little more bacon fat (you might add more as you go to get a smooth consistency)
blend until smooth and silky – yes you have to taste test here!
spatula the pâté into a bowl
now, put all the bacon into the Vitamix
turn that bad boy on! Because the Pete's Paleo bacon is so thick and amazing, mine turned more into pulled pork than chopped bacon, which was AWESOME.
mix this into your pâté, and voila!
Your pâté is served! It's delicious straight off the fork, spoon, or butter knife, but I knew I had to feed Rusty dinner so I put this little meal together, and it was a hit!
Using THIS recipe from Eat Live Grow Paleo for paleo rosemary olive bread (which is super easy to make), I put together little open-faced sandwiches!
Simply make the bread ahead of time and give it time to cool. Then slice it up and put it in the oven for about 5 minutes on broil – keep an eye on it! Next, spread on your pâté and some sliced raw cheddar cheese from grass-fed cows and stick it back in the oven to broil and melt the cheese. Pull it out once the cheese is melted, and add a swipe of stone ground mustard. We topped that with organic spring mix and a drizzle of olive oil for some freshness…
I'll tell you what, if you experiment, it's so possible to eat healthy AND enjoy every minute of it. No more being scared to try new things. Give this one a whirl, and get excited because my next post is a SUPER easy recipe that i put together with this pâté…
Happy Tuesday everyone! Have a great day. And please feel free to comment any health, nutrition, etc. questions you might have!
Nym and Kali send their love!