Congrats to my Wild Foods Co. Winners! Heather, Christine, and Jenna (Of Barbells and Baking) will each be getting:
*Note: winners were picked 100% at random by a computer – not a human
Now, on to our regularly scheduled programming…
As  many of your know, I recently had the pleasure of attending Paleof(x) in Austin, Texas. While there, I met some really amazing people, learned so much about the Paleo movement and its reach that goes well beyond the food we eat and into every aspect of our lifestyles, and yes, tried some AMAZING new products in the vendor expo.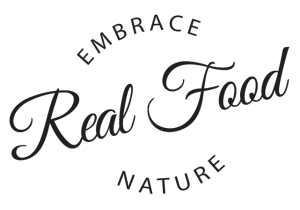 As I have mentioned before, I will always only mention, review, and giveaway products that I truly believe in on this blog. That means that the product itself has to meet my requirements for nutrient density, sustainability, and quality, but ALSO that the foundation of the company has to align with my beliefs too. Wild Food Co – its products and its mission – do just that for me. There were a few products that really stood out to me over the course of my weekend in Austin, and the teas and wild whey protein from these guys definitely made me stop in my tracks, eager to learn more.
The name caught my attention right off the bat, of course, but after trying out some of their products and speaking with owner, Colin, and his passionate staff about the Wild Foods philosophy, I was sold.
Our mission is to spread the importance of real food nutrition and the importance of transparency in the way the food we eat is made. We believe that success is measured by the impact we have on the world. By combining food, service and purpose, Wild Foods aims to bring happiness and betterment to as many people as possible.
Two main products that stood out most to me were the Wild Teas and the cleanest Whey Protein Powder I have come across to date (biologically-active grass-fed whey protein, to be exact).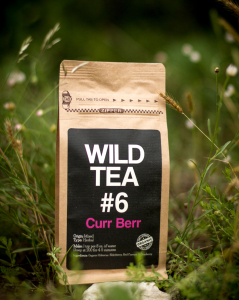 The Teas – sustainably sourced and loaded with health benefits, including:
Contains antioxidants, vitamins and minerals
Increases energy and stamina
Is a natural metabolism stimulant
Is lipolytic: breaks down fat
Helps prevent tooth decay
is antiviral and antibacterial
These teas have become a part of my daily routine. I love that I can choose a tea based on my mood and energy levels. They are loaded with nutrients, incredibly delicious, and the variety keeps every morning exciting. They are soothing, detoxifying, energizing, and so delicious.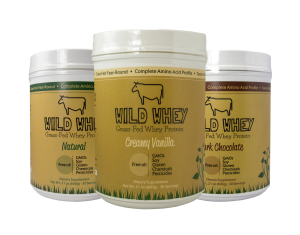 The Protein – Wild Whey is a non-denatured, native whey protein, and it is delicious. "Native" means that the whey is made directly from milk (not cheese like so many other proteins). It undergoes the most minimal processing possible – flash pastured for 15 seconds (per FDA law) before being immediately cooled at 3° C and then dried using a proprietary ambient-air drying method that results in an easy-to-mix whey protein that does not require adding lecithin to aid in mixing (just say no to soy). Wild Whey is as close to nature as is (legally) possible, and it's a difference that you can taste and feel. Independent lab testing has shown that Wild Whey contains as high as 6x more and as low as 3x more glutathione producing protein components–immunoglobulins, lactoferrin, serum albumin–than traditional whey protein isolate and ion-exchange proteins.
It's for these reasons that I have started to include Wild Whey in my diet after years of removing all whey protein (food replacements). I use it in recipes (see below), in smoothies and shakes when I need a meal on the go, and sometimes on it's own because it's really that good.
And now, it's time for a new, delicious recipe….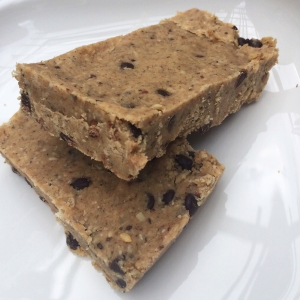 Wild and Raw Protein Bars (GF)
Servings: 9
Difficulty: super easy
WHAT YOU NEED:
1 cup of nuts and/or seeds of your choice (I used 1/2 cup sprouted sunflower seeds and 1/2 cup soaked and dehydrated walnuts)*
1/4 cup of Wild Foods Co. Protein (vanilla, cocoa, or plain work well)
1/4 cup of nut/seed butter of your choice (I used organic Nuttzo)
1/4 cup shredded coconut
pinch of Celtic sea salt
1/4 cup of coconut butter
1 TB pure maple syrup
1 tsp organic vanilla extract
OPTIONAL: 1/4 cup dark chocolate chips (fair trade and soy free)
*I always soak nuts and seeds and then dehydrate them in the oven (at 110F) for about 2 hours before using them to get rid of any of the anti-nutrient properties that can cause some issues. Sprouting is even better!
WHAT YOU DO:
add nuts/seeds, Wild Foods protein powder, nut/seed butter, shredded coconut, and sea salt to a food processor or Vitamix and pulse until you have a nice even consistency
soften your coconut butter over low hear, being very careful not to let it burn (this happens easily)
add the melted coconut butter, maple syrup, and vanilla extract and pulse until you have a "dough"
move to a glass bowl, and fold in your chocolate chips
now, press the dough into a 6×6 (or similar) square glass baking dish and move to the fridge for an hour or the freezer for 20 minutes
remove, cut into squares, and ENJOY! These will stay solid at room temp because of the coconut butter, but they'll last all week in the fridge.
Good luck with the giveaway! I hope you enjoy these bars as much as we do. I make a batch every Sunday to last for the week. Yum! Live Rad, my friends.
a Rafflecopter giveaway