Wait for it….
I used to be a vegetarian.
Breath. Hard to believe right? Now that I am the one nibbling on beef liver, adding bacon to everything, and loving myself some rare grass fed steak, it's hard to imagine there was a time when I wouldn't touch meat. I thought I was being as healthy as possible. I thought I was doing my part to save the planet.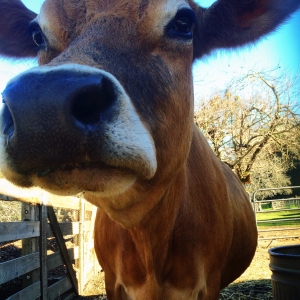 Man, have I learned a lot. THIS book was pretty life-changing for me. I know what I know and do what I do now because of the same passions that drove me to vegetarianism all those years ago, but I come to the table with a lot more education, experience, and pure joy (did I mention I love steak?). Yes, I love steak, but I also love and appreciate the animals that provide that meat (like Luna over there). I know where each meal comes from. I know the importance of shaking the hand of the farmer that raised my food. And I am passionate about helping others take small steps to do the same.
I could go on for pages on this subject, but I will save that for another post. The purpose of this post? To share with you a recipe that is born from my vegetarian days. A recipe inspired by a much simpler rendition that my  husband (then boyfriend) and I used to eat at least twice a week. I've changed an old version up to bring you more nutrient density, more flavor, and more yum.
This salad takes me back to those days because it is a meatless dish that can stand alone. But it also calls to mind all that I have learned (especially when paired with finger lickin' crispy chicken or a giant grass fed steak). It's loaded with energy dense sweet potato, fig, and wild rice (read more HERE about why I love wild rice). Plus, it's got more of my favorites: wild arugula, fresh goat cheese, and a delicious, super simple homemade dressing. You can even get your daily dose of bone broth in.
It's really a winner, so without further ado, I bring to you our new favorite slightly warm, always delicious Arugula, Sweet Potato, and Wile Rice Salad. A perfect hearty summer meal (even all on its own). Yum!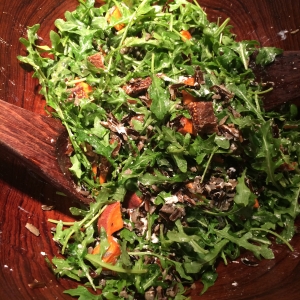 Arugula, Sweet Potato, and Wild Rice Salad (GF, NF)
Servings: 6-8
Difficulty: easy
WHAT YOU NEED:
1 cup of wild rice
enough water for soaking
3 cups of filtered water (or bone broth for more flavor and nutrient density)
1 large or 2 small sweet potatoes
1/4 cup ghee, tallow, or coconut oil
sea salt and pepper to taste
6 cups wild arugula
1 cup dry organic figs
4 oz goat cheese
1/2 cup pure extra virgin olive oil
3 TB organic balsamic vinegar
1 TB raw, local honey
WHAT YOU DO:
pour rice in a bowl and cover with water to soak for at least 1 hour (I've left them all day before)
drain and rinse your rice (get rid of the soaking water) and bring to a simmer in 3 cups water or broth
set heat to low, cover, and let cook for about 45 minutes, until liquid has been soaked up (follow instructions on your rice package, if you go with a different brand)
in the meantime, set your oven to 400F, cut your sweet potato into small cubes, coat with cooking fat, sea salt and pepper, and roast until crispy and tender (about 15-20 minutes)
while your potatoes roast, put arugula in a large salad bowl, and add diced figs and goat cheese
whisk together your olive oil, vinegar, and honey
once the cooking is done, add warm rice and sweet potato to your salad, pour on the dressing, and toss so the arugula wilts a bit and your cheese gets melty
serve warm and ENJOY!
We had ours with my finger lickin' crispy chicken. Yum! Let me know what you think by leaving a comment below!
Cheers, guys!