Memorial Day is here, which means that summer is coming, and I am a happy camper. Sunshine, summertime, huge changes coming our way, and a WHOLE new crop of amazing fruit at farmers market.
Nothing says summer like fresh blueberries, bursting with flavor, or biting into a sweet, juicy peach. These two fruits are a match made in heaven, which is why I've decided to bring them together in celebration of the holiday that kicks off the season.
So bring your loved ones together to celebrate and remember the brave men and women who have given the ultimate sacrifice to fight for freedom, hope, and security. Then, breath deep, and feel grateful for all that we have.
Why not cap the day off with this blueberry peach cobbler? Don't forget to smile, knowing you are nourishing mind, body, and soul!
Cheers to a wonderful holiday with the ones you love most and to all those who've given up so much.
Note: This cobbler can be made any time of year! Just sub in whatever fruit is in season (try apple cranberry in fall or winter for a festive soul-warming treat).
Enjoy!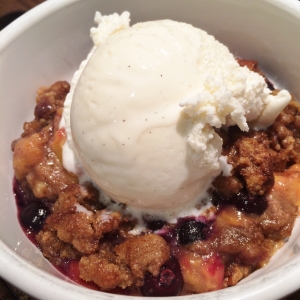 Blueberry Peach Cobbler (GF)
Servings: 6
Difficulty: moderate
WHAT YOU NEED:
for the filling:
1/4 cup raw heavy cream (coconut cream will work too)
1 TB maple syrup
1 tsp vanilla
1/4 tsp cinnamon
1 TB arrowroot flour
2 cups of local, organic blueberries
2 large or 3 medium peaches (plus boiling water and ice water to remove skins)
for the topping:
1/3 cup almond flour
1/3 cup tigernut flour (you can double the almond flour if you don't have tigernut flour, but I love the consistency when it's used)
1/2 tsp cinnamon
pinch of sea salt
1/2 cup (8TB) cold grass fed butter or ghee
3 TB coconut sugar
1/2 cup crushed walnuts
WHAT YOU DO:
preheat the oven to 350F
fill a small pot with water and bring it to a boil and fill a bowl with cold water and ice
once the water is boiling, drop in your peaches for 30 seconds, remove with a slotted spoon, drop into ice water for 10 seconds, then remove and peel the skin (it should basically fall off at this point)*
slice your skinned peaches, rinse your blueberries and set aside
now, in a bowl mix all the filling ingredients until combined, add your fruit, and stir gently until all your fruit is coated (gently now)
in a separate bowl, sift together almond flour, tigernut flour, cinnamon, and salt
cut your cold butter into small chunks and use your fingers to cut the flour with the butter until it's combined and you have tiny pearls of flour
add your coconut sugar and crushed walnuts and stir it up, until you have a nice crumbly topping
pour your filling into a cast iron skillet or crumble dish and cover evenly with topping
bake for 20-30 minutes or until the topping is slightly brown and the amazingly delicious fruit filling is bubbling out the sides (holy crap, I'm drooling)
ENJOY! We topped it with vanilla ice cream, and enjoyed every last crumb
*let your water cool and then use it to water your garden!
Let me know what you think with a comment below!