I am giving away TWO large canisters of Vital Proteins (read on for more details and a COUPON CODE for everyone)!
There's been a lot of talk about collagen from grass ged cows and its myriad benefits as of late. And if you've been following my blog or Instagram, it should come as no surprise that I LOVE this stuff. I can actually honestly say that, more than any other product out there, I use collagen every single day. Whether I am traveling, on the go, relaxing at home, or spending a whole day in the kitchen, I can guarantee that collagen will end up in my diet in some form each day. And the benefits of this nutritional addition have been pretty astounding.
You're probably thinking to yourself, "Sure, Laura. Like I have time to add another step into my day." But stay with me. This small nutritional change is possible, and you can get your daily dose of collagen in too, thanks to Vital Proteins, a company that has developed a real food product that makes a real big difference. But before we get more into the HOW (recipes, please!), let's talk about the WHY.
WHAT IS COLLAGEN:
I't simple, really. Collagen is the main structural protein found in animal connective tissue, yielding gelatin when boiled or cooked down. Before you get squeamish on me, it's important to note that our ancestors ate the whole animal, utilizing sustainable practices and getting in an abundant amount of collagen with each kill. Sadly, over the past century or so, modern food processing has removed this naturally occurring, healthy protein from our diets. Collagen is essential for our body, and it's the basic building block for our skin, hair, nails, bones and joints. You need look no further than THIS page to read the science behind the benefits, but I'll lay it all out for you here.
BENEFITS OF COLLAGEN
Healthy Skin – Because who doesn't want that? Collagen Peptides are a natural bioactive ingredient that improves epidermis moisture content and prevents skin aging. This means it promotes younger looking skin by adding moisture and reducing the number of furrows along with signs of deep wrinkles. It also keeps skin looking youthful, supple, and beautiful.
Happy Joints and Bones – Whether you are an avid athlete, an adventurer, or just a person wanting to avoid the aches and pains that doctors frustratingly attribute to aging (pain should never be a given), collagen can help you feel younger from the inside out for years to come. The process that collagen goes through in the body ensures and maintains the biochemical characteristic of the cartilage, keeping joints doing their job. The benefits can also be seen in bone mass, as collagen, which represents 90% of organic bone mass, provides beneficial effects on bone metabolism, even increasing density. This is a win for folks with degenerating bone mass AND for folks looking to recover stronger and stay healthy for longer.
Functioning Gut – Collagen has been found to help heal the lining of the stomach and the intestines, which is great for those with heartburn, acid reflux, or anyone dealing with intestinal inflammation. Collagen has been shown to help with gastric ulcers, and it is an important metabolic fuel for the intestines. This is also great for anyone suffering with an autoimmune condition, considering 70% of the immune system is located in the gut. Healthy gut, happy life.
Life Goals – Our muscles are often a main focus to enhance both physical performance and, for many, aesthetic goals too. Whether you want to increase energy, improve in your sport, become more efficient at your job, or simply look better naked, increasing muscle mass will help. Connective tissues are the second biggest organ of our body, forming tendons, ligaments, cartilage, bones and maintaining our muscle structure. Without collagen, we cannot maintain these tissues, and we need collagen peptides to supply the amino acids that are needed to build new collagen. By supplementing with whole food collagen from grass fed cows, we can give our bodies a needed boost towards achieving those goals.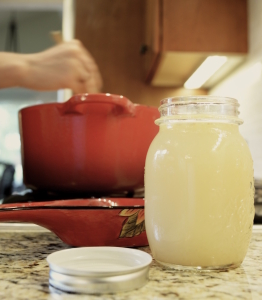 Now, you can get in plenty of collagen by drinking bone broth daily, but let's face it, making bone broth at home daily, drinking it in the hot summer months, and keeping enough bones on hand to make this all sustainable, just isn't in the cards for most people… That, my friends, is where Vital Proteins comes in. While, I still make sure to have my bone broth in the form of soups, stews, or sipping, every week, it's great to know that I can add a couple scoops of this stuff in on a daily basis to ensure that I am getting the necessary nutrients in without breaking the bank or adding any stress to my day. Because let's face it, some days are too busy to make a fresh batch of bone broth. And I would sure prefer to sip on a cool smoothie on a hot day than drink some hot broth. So, how do I get it in?
THE HOW:
Daily Coffee/Tea – I add two scoops to my organic tea each morning with a bit of honey
Adrenal Cocktail – THIS recipe from Megan Rand of Ginger Newtrition is a favorite of mine
Ice Cream (yep, it's a win-win)
Yogurt – simply stir it into your favorite probiotic-filled yogurt!
All kinds of gummy treats (like THESE from my good friends at Pickles and Peanuts)
Soups, chilis, and stews – add a few scoops for some extra nutrient punch
Smoothies (see new favorite recipe below!)
In a pinch, I've even stirred peptides into water for a little extra nutrient punch. I feel stronger. I recover faster. I get sick less often. And I attribute a lot of that to a healthy, real food diet and the supplementation of collagen, thanks to Vital Proteins. Don't just take my word for it, though. Try for yourself! Check out the GIVEAWAY details below. You could win TWO full canisters of Vital Proteins to experiment with and enjoy. Here's what you'll get:
Collagen Protein Beef Gelatin (green lid – 17g protein/serving): Use to prepare hot in teas, coffees, broths, soups, sauces and gravy, or make gelatin and gummy snacks packed with protein.
Collagen Peptides (blue lid – 18g protein/serving): Use this hyrdrolyzed, cold water soluble version of the gelatin to prepare cold or hot in flavored drinks, smoothies, ice cream, yogurts, puddings, broths, and soups to boost the protein content.
In the meantime, feel free to make an order yourself using Coupon Code: MYRADICALROOTS20 for 20% OFF and FREE Shipping from May 27 – June 10, 2015.
See all the details below. And keep scrolling for a delicious smoothie recipe just in time for summer!
And now, a recipe!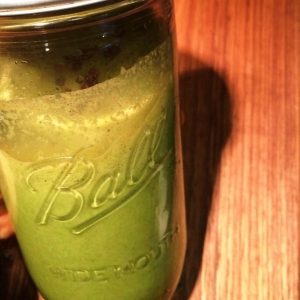 Vital Proteins Summer Detox Smoothie (GF, NF, DF, AIP)
Servings: 1-1
Difficulty: easy
WHAT YOU NEED:
1 cup full fat, organic coconut milk from the can
1 serving Vital Proteins Collagen Peptides
1⁄2 cup fresh seasonal, organic berries
1 cup kale
1 TB chia seeds
1 tsp ginger root
1 tsp fresh grated turmeric
small handful of ice (optional, but I like it nice and cold)
WHAT YOU DO:
put everything in the  blender or Vitamix
blend until smooth
Enjoy, breath, smile
Enjoy! And best of luck. And don't forget, you can make an order yourself using Coupon Code: MYRADICALROOTS20 for 20% OFF and FREE Shipping from May 27 – June 10, 2015.