We are SO EXCITED to share that Four Sigmatic has come on to support the Modern Mamas Podcast and to bring you guys a great deal! Get 15% off your Four Sigmatic order with code: modernmamas!  If you've been following along, you know that I am loving the impact these deeply medicinal real food supplements have had on my life, and I can't wait to hear what you think too. Happy shrooming, friends ♡
"Guest Interview – Kristen Roberts of Trestle Law on an entrepreneur life in law, infertility struggles, and pregnancy."
In this episode, Laura sits down with Kristen Roberts to chat all things entrepreneur life in the "boys' club of law, her infertility struggles, pregnancy, and how she's set up her business to run strong while she spends time with baby Billie in those early weeks. Kristen is an empowered, inspiring mama with so much to share. Don't miss it; This one is good one!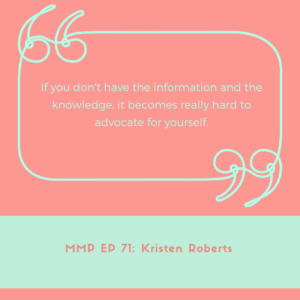 Kristen Gonzales Roberts is the Founder and Managing attorney of Trestle Law, APC. Kristen primarily focuses her practice on helping businesses and their owners develop, protect, and police their brands and other valuable company intellectual property.
Kristen is highly experienced in the fields of trademark and copyright law, both from transactional as well as litigation standpoints. She has litigated cases in both the Central and Southern Districts of California, as well as cases before the Trademark Trial and Appeal Board. In addition to zealously representing and protecting her clients' intellectual property interests, Kristen is well-versed in the areas of business law and employment counseling. She represents companies as outside general counsel for all legal matters and helps businesses charge across the bridge to success.
Aside from her law practice, Kristen is a classically trained opera singer and is involved with various arts and education programs in San Diego, as a Commissioner for the Salary Setting Commission, and an adjunct faculty member at her alma mater, Thomas Jefferson School of Law, where she teaches several intellectual property courses. Kristen is licensed to practice law in the State of California, as well as the Central and Southern Districts of California.
Links and Such:
Connect with Kristen: www.trestlelaw.com, @kristeroberts.esq
Taking Charge of Your Fertility
Steph Gaudreau
Connect with us:
Email: modernmamaspodcast@gmail.com
Any thoughts or comments? Leave them below. We love hearing from you. Please subscribe, rate, and review! We're so glad to have you as a part of our tribe!
♡ Laura