We are SO EXCITED to share that Four Sigmatic has come on to support the Modern Mamas Podcast and to bring you guys a great deal! Get 15% off your Four Sigmatic order with code: modernmamas!  If you've been following along, you know that I am loving the impact these deeply medicinal real food supplements have had on my life, and I can't wait to hear what you think too. Happy shrooming, friends ♡
"Guest Interview – Nicole Peyton of the BIRTH Project"
*Content Warning* – this episode dives into the topic of pregnancy and infant loss, so please take note if this might be triggering for you*
In this episode, Laura sits down in person with one of her closest friends, Nicole Peyton, to talk about her new project: the Birth Project! The Birth Project is Nicole's passion project; it's a safe space for women to share every kind of birth story, a place for us to go to see that all birth is natural, that all birth is beautiful, that all birth is empowering, no matter how the journey unfolds. We also talk about pregnancy and infant loss and the incredible women who have shared their stories to help others know they are not alone. Don't miss this one!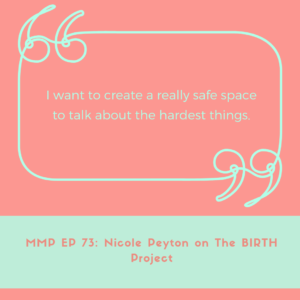 Nicole Peyton is a 33-year-old mother of two, Isla Eve, almost 3, and Ellis Grey, 7 months. She is from Santa Cruz, California, where she lives with her little ones, husband, Chad, and their pup, Lulu.
Since having kids, Nicole has become passionate and inspired by the birth community and hopes to add some value to it through storytelling. The BIRTH Project is a place to tell your birth story and read others in a place that leaves you feeling inspired, empowered and able.
Links and Such:
Connect with Nicole: www.birth-project.com, @the_birthproject
Connect with us:
Email: modernmamaspodcast@gmail.com
Any thoughts or comments? Leave them below. We love hearing from you. Please subscribe, rate, and review! We're so glad to have you as a part of our tribe!
♡ Laura