We are SO EXCITED to share that Four Sigmatic has come on to support the Modern Mamas Podcast and to bring you guys a great deal! Get 15% off your Four Sigmatic order with code: modernmamas!  If you've been following along, you know that I am loving the impact these deeply medicinal real food supplements have had on my life, and I can't wait to hear what you think too. Happy shrooming, friends ♡
"Guest Interview – Anne Garland from Grass-Fed Salsa on Creating a Non-Toxic Home on a Budget"
In this episode, Jess sits down with Interior Designer and Integrative Nutritional Health Coach, Anne Garland to chat all of the ways to create a non-toxic living space. We talk about some of the BIG changes you can make, but also how to slowly and cost-effectively go about creating a cleaner home. This episode was a good one. Don't miss it!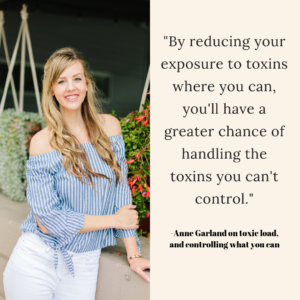 Anne is a certified Integrative Nutritional Health Coach and Interior Designer who is passionate about whole home and body detox, as well as personalized nutritional therapies tailored to the individual. She's the creator of several online programs and ebooks including Ditch Your Nutritionist, Autoimmune Accomplice, and Detox Your Life which is launching in January. When she's not designing hotels or creating content for her wellness business and website Grass Fed Salsa, you can find her snuggled up to her 9 month old daughter GG, her husband James, and their pups Cohen and Kiki.
Links and Such:
Keim, RomaBio, Farrow and Ball
Budget Friendly Furniture: Ikea
Mattress: Posh & Lavish
Acorn App for budgeting large purchases
Carpeting: Safavieh, Lorena Canal, Nuloom, Flor, Hook and Loom
Home Fragrance: Beeswax Candles, activated charcoal, Diffusers/EO
Cleaning Products: Branch Basics, Norwex
Air Purifiers: Austin Air, IQ Air, Ozonator, air purifying bag
Plants: Mother in Law Tongue, Fiddle Leaf Tree, Rubber Tree, Golden Pothos, Dracaena
Connect with us:
Email: modernmamaspodcast@gmail.com
Any thoughts or comments? Leave them below. We love hearing from you. Please subscribe, rate, and review! We're so glad to have you as a part of our tribe!
♡ Laura