We are SO EXCITED to share that Four Sigmatic has come on to support the Modern Mamas Podcast and to bring you guys a great deal! Get 15% off your Four Sigmatic order with code: modernmamas!  If you've been following along, you know that I am loving the impact these deeply medicinal real food supplements have had on my life, and I can't wait to hear what you think too. Happy shrooming, friends ♡
"Guest Interview – Diane Sanfilippo on finding your Keto Quick Start"
In this episode, Laura sits down with Diane to chat all about keto, hormones, real food, ditching the diet dogma, and the empowerment that can come from giving keto a try. This is a really great episode that might even surprise you. Don't miss it!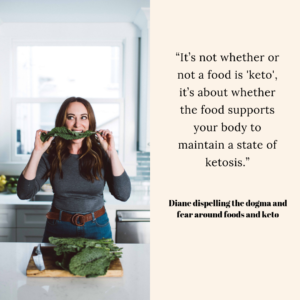 Diane Sanfilippo is the owner and founder of Balanced Bites, a certified Nutrition Consultant, and two-time New York Times bestselling author of Practical Paleo, The 21-Day Sugar Detox series and co-author of Mediterranean Paleo Cooking. Diane holds a B.S. from Syracuse University and is certified in holistic nutrition from Bauman College, holistic lifestyle coaching from the CHEK Institute, and Poliquin BioSignature Modulation. She writes for her popular health blog – balancedbites.com – and is co-host of the top-rated weekly health podcast, "The Balanced Bites Podcast," available free from iTunes. In 2016 Diane released an updated and expanded 2nd edition of her runaway hit Practical Paleo which has sold over half a million copies and spent a total of 97 weeks on the New York Times bestsellers list. Her most recent book is The 21-Day Sugar Detox Daily Guide. On January 1st, 2019, Diane will release Keto Quick Start, a beginner's guide to a whole-foods Ketogenic diet. Diane lives in San Francisco with her husband, Scott, and two fur kids.
Links and Such:
Connect with Diane on Facebook and Instagram (@dianesanfilippo),
Website: balancedbites.com
Balanced Bites Podcast
Pre-order Keto Quickstart
Find Diane on tour
Connect with us:
Email: modernmamaspodcast@gmail.com
Any thoughts or comments? Leave them below. We love hearing from you. Please subscribe, rate, and review! We're so glad to have you as a part of our tribe!
♡ Laura