I want to start by taking a quick bit of this post to say MERRY CHRISTMAS and HAPPY HOLIDAYS to all of my readers. I am so thankful for every single one of you, and I am so in awe of where this blog has gone and (hopefully) will continue to go in 2015.
Thanks for checking in, for reading, and most importantly, for sharing these recipes with the ones you love.
The holidays are my most favorite time of year, and this is primarily because of the time spent sharing delicious food with the ones I love. After an unbelievable Thanksgiving meal that I put my heart into, Christmas will be a bit simpler. On Christmas Eve, I'll be making our family tradition of gluten free grilled cheese sandwiches and tomato soup from scratch (recipes to come), and then we will be heading to visit my perfectly crazy, and oh so loving 40+ extended family members in Southern California for Christmas dinner.
Now, don't for a second think I will be showing up empty handed, though. Most of my family hasn't transitioned to my way of eating yet (baby steps), so I know I'll have to bring some food of my own to share with everyone that won't leave me feeling like crap and won't leave anyone else feeling like something is missing. So this year, I will be bringing my autumn arugula salad (with a few tweaks to make it winter-fied), pasture raised, preservative-free honey baked ham from Whole Foods (we were asked to bring ham this year, so I was super picky in the one we picked), and the amazingly delicious truffles from this post. Trust me; you'll see.
The bitter sweet cocoa and dark chocolate pair perfectly with the hint of sweet and nutty from the maple glazed brazil nut, making the perfect taste explosion!
I cannot wait to see the aunts, uncles, and cousins that I love so much, to catch up, share stories, and experience pure happiness, all while enjoying some delicious food and sharing my love through what I prepare. I'll eat happily and rest easy knowing that I am providing nutrient dense, sustainably produced, delicious food for so many of the most important people in my life. And that will even include dessert! These truffles are made with organic cocoa, pure coconut oil, organic/fair trade dark chocolate, and the (in my opinion) under appreciated brazil nut.
So why brazil nuts as the perfect center to this delicious holiday treat? Well, eating just two Brazil nuts a day is really good for our health (bonus points for the fact that they taste so good)! Eating just two of these nutrient-packed nuts meets our daily selenium requirements, and selenium is a good one. It's a trace element that plays a very important role in increasing the body's levels of glutathione peroxidase, a potent antioxidant made in the liver. Brazil nuts are also rich in a many other  vitamins, nutrients and minerals. For instance, the high levels of palmitoleic and oleic acids help to increase levels of HDL cholesterol (which we hopefully all know by now, is a GREAT thing). These nuts also have Vitamin E, an antioxidant rich, fat soluble vitamin, which together with selenium, plays an important role in boosting immunity and reducing free radical damage. But remember, two of these nuts is all you need for the benefits (though it is hard to stop at two).
As with any treat, though, don't overdo it. These are, after all, a TREAT. And as always, RECREATE, SHARE, ENJOY <3
Happy holidays from my little family to yours!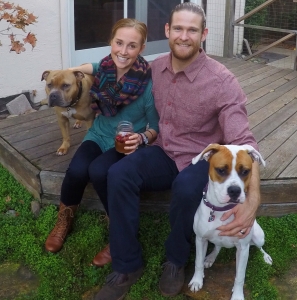 [recipe title="cocoa maple brazil nut truffles (GF, DF)" servings="20″ time="4+ hours" difficulty="easy"]
WHAT YOU NEED:
20 raw whole brazil nuts (you can sub any nut of your choice, but the brazil nuts are so good)
1/4 cup maple syrup
pinch of sea salt
6 oz (2 bars) fair trade dark chocolate, 70% cacao content or higher
2 TB coconut oil
1/2 cup full-fat coconut milk
1/2 tsp vanilla extract
1/4 cup unsweetened cocoa
WHAT YOU DO:
cut the chocolate into small shards and move to a bowl with the coconut oil
heat the coconut milk in a small pan over medium heat until simmering
pour the coconut milk over the chocolate and coconut oil, and stir gently to combine (if you aren't gentle the chocolate can get grainy)
add vanilla, and continue stirring
transfer this mixture to a sealed glass container and chill in the fridge until solid (4 hours)
in a pan over medium heat, add brazil nuts and maple syrup
stir until all syrup has coated and soaked into your nuts
move to parchment paper, sprinkle with sea salt, and set aside to cool
once your chocolate mixture is cool begin the rolling process
spoon out a small blob and use your hands to roll the chocolate around a maple brazil nut (if they are a bit misshapen, smile at the beautiful imperfection)
coat the truffle in the cocoa powder
repeat until you've used everything all up
ENJOY! Keep them in the fridge for a week or freeze them for a few months. But most importantly share these with the ones you love! [/recipe]
Merry Christmas, and stay tuned for a New Years post to wrap up 2014! Wishing you all the joy of the season <3