As far back as I can remember my family has spent Christmas Eve at my great aunt and uncles (the coolest God Parents a girl could ask for). Some of my most cherished memories are from this night once a year where the parents would eat raw oysters (which I thought were nasty). Where I had my first ever sips of champagne. Where we would enjoy warm, creamy tomato soup and gooey grilled cheese sandwiches. Where we would fight over the last piece of peppermint bark. Where we would get to open one perfectly wrapped gift each. And where we would ALWAYS look for Rudolph's nose on our way home to sleep so Santa could come.
Though a few things have changed over the years, like kids going away to college, a wonderful wedding, family moving away, and a total diet and lifestyle change, a few Christmas Eve traditions will always stay constant: the oysters (which I now think are delicious), toasting with champagne (a little more now that I am all grown up), the unconditional love in our family, and delicious tomato soup and grilled cheese (oh, and I don't think I'll ever stop searching for Rudolph's nose on Christmas Eve).
Up until this year, we had always picked up our tomato soup fresh from a local grocery store, but I finally felt ready to take on the challenge of making a delicious homemade, clean and delicious tomato soup from scratch on my own. I added some additional organic veggies for a more dynamic flavor profile, used my own homemade bone broth and fresh herbs, and finished it off with a bit of organic, grass fed heavy whipping cream to make the most amazing creamy tomato soup of any Christmas Eve to date!
I also found THIS organic traditional gluten free bread mix, which I used to whip up a fresh loaf of bread the day before. We loaded the sandwiches up with pastured prosciutto, coppa, and pancetta and a choice of raw milk gruyere, pepper jack, or sharp cheddar, and grilled cheese perfection ensued.
So my dad grilled up some oysters, we loaded them with melted butter and toasted to another wonderful year. And we sat as a family and laughed our butts off over big bowls of homemade tomato soup and ooey gooey ramped up grilled cheese sandwiches. And I think I just might have seen a red glowing dot high overhead as we said goodnight and finished up another perfect Christmas Eve.
So from my family to yours happy holidays, and I hope you enjoy this creamy tomato soup, created with love from my heart to yours. It's great for any time of year, so don't hesitate to ring in 2015 with this delicious simple meal. Recreate. Share. Enjoy. ♡
Creamy Tomato Soup (GF, NF)
Servings: 8
Difficulty: moderate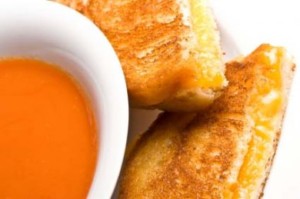 WHAT YOU NEED:
4 TB unsalted grass fed butter
4 slices raw bacon, diced
1 yellow onion, chopped
2 carrots, chopped
2 stalks celery, chopped
4 cloves garlic, minced
5 cups homemade bone broth
2 cans (15 oz) organic whole, peeled tomatoes (with liquid)
3 fresh thyme sprigs
2 bay leafs
1 cup grass fed heavy cream (you can leave this out to make it dairy free)
1 tsp kosher salt
freshly ground black pepper
WHAT YOU DO:
heat the butter in a large soup pot over medium-high heat
add the bacon and cook, stirring, until crisp then transfer to a bowl with a slotted spoon, leaving the fat behind
reduce the heat to medium then add the onion, carrots, celery, and garlic and cook until soft and fragrant, stirring occasionally
pour in the broth and tomatoes and bring to a boil while stirring
add the thyme and bay leaf
lower the heat, put on the lid, and simmer for 30 minutes
after 30 minutes, remove from heat and let cool for about 10 minutes
once cooled, discard the thyme and bay leafs and transfer the mixture to a blender
puree until smooth (you might need to do this in batches)
return the puree to the pot and reheat over medium heat
whisk the heavy cream and salt into the soup and season with pepper to taste
divide among soup bowls, top with the crispy bacon, and serve immediately
As always, Recreate. Share. ENJOY!
This is a truly special recipe that will be enjoyed time and time again for our Christmas Eve family tradition. I am honored to be able to share this recipe with you. Happy holidays and cheers to a wonderful New Year!
♡ Laura