The holidays are in full swing at the Radical Roots homestead, and that means it's sugar cookie time. My husband is a cookie fiend (if you didn't know that already), and since the day after Thanksgiving, he's been asking for sugar cookies to have with homemade eggnog (next recipe coming your way).
We had a gift certificate leftover from our wedding at Sur la Table, and along with a roasting pan for our first turkey in our new home, I decided to splurge on some adorable cookie cutters, which you can also find on amazon on sale for a better price. Making Christmas cookies is a tradition that I love, and until now, I've never had a grain free cookie dough that actually worked with cookie cutters; they've all been too sticky or crumbly.Note, though, that these cookies are also delicious as simple round sugar cookies. I did half the batch with the cookie cutters, and the rest as regular cookies because, frankly, I didn't have the patience, and I might have ended up eating half the dough. I set out this year determined to get the perfect sugar cookie dough, and holy crap, I did it!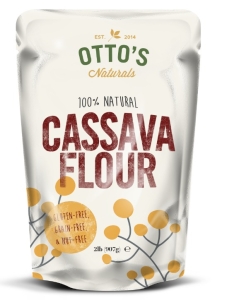 I can't take all the credit, though, Otto's Cassava Flour has made baking so much more fun and so much more successful. If you haven't tried this flour yet, I highly recommend it. Maybe even buy a bag for a friend or family member. It's currently (as of the date I'm writing this post) on sale too for 37% off. Click HERE to order a bag for yourself.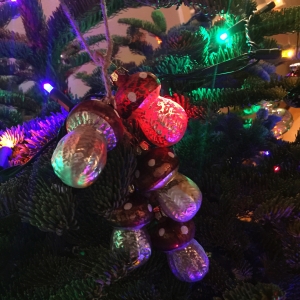 Ok, back to the holidays and the best Christmas cookies I've ever made. I love Christmas. I love the traditions, the Christmas movies, the time with family and friends, and the joy that comes from seeing people spread the love. Some of our traditions include cutting down our tree every year on Thanksgiving weekend, and now that we're in the Pacific Northwest, we can actually go into the Olympic with a permit and cut our tree down, so we aren't supporting mono-crop industry and we know it'll grow back and keep the cycle going. Another favorite tradition is picking out a new ornament every year to add to our tree. This year, our first in the PNW, we fittingly found the coolest mushroom ornament at a local store. On Christmas Eve, we practice my favorite of all traditions – homemade tomato soup and grilled cheese sandwiches. I have the best memories of Christmas Eve at my aunt and uncle's house, and I am honored to carry it on for my friends and family now.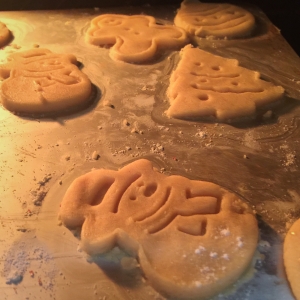 And this year, we start a new tradition of making grain free sugar cookies from scratch and enjoying them as we decorate the tree with Elf playing in the background. It's something I look forward to someday doing with kiddos of our own (working on a frosting recipe to add to the mix for some extra messy fun). So happy holidays, everyone in whatever capacity or belief system you might celebrate. I would be honored if these cookies made your holiday a little brighter. Maybe you could even whip up a few batches of the dry ingredients, and provide the recipe and dry mixture to some of the people in your life. Who doesn't love making sugar cookies?
In the chaos of the season and the marketing all around you, don't forget what this season (and whatever it means to you) is really all about. Love your neighbors, your family, your friends, this earth, and yourself. In times when the world seems filled with hate, remember that you can make a difference with the love and energy you put out there every day. Thanks for reading, and thanks for always living even just a little bit rad. Happy holidays!
♡ Laura
Grain Free Sugar Cookies (GF, NF)
Servings: 16
Difficulty: easy
WHAT YOU NEED:
WHAT YOU DO:
preheat oven to 350F
in a small bowl, combine flours, baking soda, and sea salt
add butter and sugar to medium bowl and mix until soft and fluffy
add egg and vanilla to butter mixture and mix until combined
now slowly add flour blend to butter blend, mixing until combined into a nice soft cookie dough
if you're making regular cookies, take golf ball sized portions of the dough and place on cookie sheet with 1″ between each, slightly flatten with your hand
if you're using cookie cutters, take one golf ball sized portion at a time, sprinkle with extra Otto's flour, and flatten out on cookie sheet until it's just centimeters thick
use your cut out and leave it on while you peel the remaining dough away, then continue this process until all dough is gone
bake for 10-15 minutes or until lightly brown (for crispier cookies, cook 15-18 minutes)
Enjoy! Happy holidays everyone!
Cheers to a great holiday filled with love and laughter! What is your favorite holiday tradition?