The joys of preparing food go deeper than a hobby or the taste testing. This recipe is a perfect example of that. Making a meal at home for yourself and/or the ones you love goes beyond saving money or eating clean; it allows the opportunity to nourish on a deeper level, no matter how fancy the meal we make. This is why I genuinely love this recipe more than any other I have come up with. This chili is simple. You can easily make it at home, no matter you skill level in the kitchen. It's loaded with nourishing ingredients. And it tastes so so good.
When you really think about true nourishment, it goes so much further than just the nutrients in food on a plate. Nourishment is physical, yes, but it's also emotional and spiritual. In the act of creating and preparing a meal for the ones you love or even just for yourself, you are, in a sense, giving your love in a way that is so unique. It may sound cheesy, but I really believe this. Without food we cannot live, right? Well, I believe that without love and care we also cannot live. Sitting down for a meal is something that goes back as far as humans do, and since the very first meal, this act has been done with a tribe, a group of people that care for each other, sitting down to enjoy nourishment from food, community, and love. Whether you're making this for your tribe or even just for yourself, your practicing an act of love and nourishing your spirit in the meantime.
Some of my most nostalgic memories are of sitting down with my family to dinner at home – without TV, without, cell phones, entirely disconnected from anything else. Those meals allowed us to be fully present, engaged in each other, and aware of the fact that we were a tribe, a family, a group of people connected to each other by blood, yes, but more importantly by the nourishment that we gave each other by caring, listening, and eating as one. I am also so grateful for those meals at home because my parents always knew exactly what they were putting in our bodies, avoiding oxidized oils, msg, added sugars, and processed foods. There may have been times where I would have preferred a bowl of cereal, but looking back now, I wouldn't change a thing. And now, I take those lessons on and bring them to you.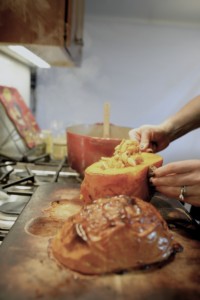 So in spending a Sunday afternoon preparing this chili… from buying the ingredients at Farmer's Market that morning to selectively choosing each spice to add to the recipe as I went along… I was performing an act of nourishment for my people. And when we sat down to enjoy it, and my parents, the ones who have nourished me since the day I was born, my brother, who has been a permanent best friend and fellow mischief maker, and my husband, who is my biggest support and greatest love, looked at me with gratitude, love, and warmth, I knew that I was nourishing them in a way that went far beyond the physical nutrients from the ingredients in the chili. We were creating a memory, sharing our love, and building the foundation for relationships that are so unbelievably priceless.
So I will leave you with that. When you make this recipe, which I highly recommend you do, remember the nourishment that went into creating it, and carry that with you as you spread that nourishment to yourself and the ones in your life.
Because no matter what we cook, when we prepare meals with health and wellbeing in mind, when we sit down in the present moment and nourish our bodies, we are taking in more than nutrients, we are taking in nourishment for the soul. Plus, bonus points for the leftovers that keep on giving. This is a great meal to make ahead and then portion out for additional lunches and dinners all week, especially if you're cooking for one. Keep the love going.
So here you have it; Beef and Bacon Chunky Chili (for the soul). My all-time favorite recipe to date.
Beef and Bacon Chunky Pumpkin Chili (GF, NF, DF)
Servings: 8
Difficulty: moderate
WHAT YOU NEED:
8 slices of pastured bacon
2 lb grass-fed ground beef
2 cups chopped sweet onion (I used spring onions because they were at my farmer's market)
1 large leek
6 cloves minced garlic
2 tsp dried oregano
4 tsp chili powder
2 tsp ground cinnamon
1 tsp sea salt
1 1/2 cups homemade beef bone broth
2 TB honey
2 cups roasted organic pumpkin (or 1 can of organic pumpkin purée)*
2 (15 oz) cans organic diced tomatoes, drained (or keep the juice if you want the chili soupier)
*I much prefer fresh roasted pumpkin here because it gives the chili its chunkiness. Buy a small baking pumpkin. Cut it in half and scoop out the seeds. Roast it face down on a baking sheet until it's soft. Remove the pumpkin meat from skin, and use it in your chili (you can do this a few days before, keep it in the fridge, and use the roasted pumpkin in recipes like my granola, pancakes, or scones, all week)
Find ingredient notes HERE!
WHAT YOU DO:
heat a large roasting pot or dutch oven over medium heat
chop your bacon and throw it in the pot to begin cooking
dice your onions and leek, add to bacon, and cook until bacon is a bit crispy and onions are soft
add in your beef, break it up with a spatula, and let it brown
as your beef cooks, add the minced garlic and your spices
once the beef is cooked through, add in your broth and stir
now add in the honey and stir it up (should have a nice simmer going)
add your broth, pumpkin, and tomatoes
give it a taste, and add more salt or spices if desired
stir and let it simmer on low heat for at least 30 minutes or a few hours (I let it simmer for 3 hours)
ENJOY! We grated some raw organic cheese on top and enjoyed with fresh avocado
Let me know what you think. This is weekly staple at our house, and the leftovers just keep on giving! I'd love to hear if you like it too. Happy nourishing!
♡ Laura