It's in gratitude that I honor my friend and Modern Mamas Podcast cohost, Jess, for the naming of this sauce. It is, in fact, potentially as addictive as a drug, but without all the nasty shit that comes along with drug use. Actually, it's quite the opposite: life giving, nourishing, uplifting, and energizing (the kind that lasts).
I created the original coconut tahini sauce to go along with my coconut tahini stir fry recipe, made years ago, and recently rediscovered and improved to be oh so glorious. Now, though, it's not just for stir frys. I have literally eaten this sauce at least once a day for the past two weeks straight. Crazy? Yes, but the only crazy here is how crazy good this sauce is. I love it classic on stir fry, but also with a few tweaks now and then (see those below) and drizzled all over a giant rainbow bowl (also below). The beauty in the bowl is that you can take what I share and rolllll with it, adding and leaving off whatever you'd like. I've made so many versions now that it never gets old. I hope you love it as much as I do. And if you think of another way to use it, share in the comments. I sure do L O V E hearing from you.
Crack Sauce, 3 ways
Servings: 3-4
Difficulty: super easy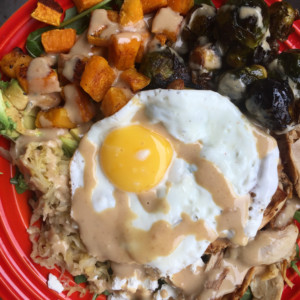 WHAT YOU NEED:
original:
1/3 cup organic tahini*
2-3 TB coconut aminos
water for desired texture
*add sea salt to taste if your tahini doesn't include salt
garlicky:
cashew coconut:
1/3 cup organic cashew butter
2-3 TB coconut aminos
water for desired texture (might need a bit more than tahini because the cashew butter is a bit thicker)
*add sea salt to taste if your cashew butter doesn't include salt
*I've tried several tahinis, and this one is the most delicious, with this one as a close second.
WHAT YOU DO:
combine all ingredients, saving water for last
add water slowly, about 1 tsp at a time, until desired consistency is reached (I like mine runny enough to drizzle, but thick enough for deliciousness)
Rainbow Bowl
Servings: 1
Difficulty: easy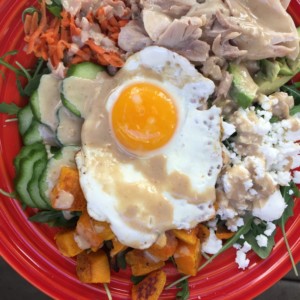 WHAT YOU NEED:
1/2 cup skinned and cubed butternut squash (frozen or fresh)
1ish TB coconut oil
3-4 oz of leftover protein of your choice (I've enjoyed this with shredded chicken thighs, seared and sliced leftover steak, or runny fried eggs)
1 handful of arugula
4 baby carrots, sliced thin (I julienne mine with a cheese grater)
6ish slices cucumber
2-3 TB kraut
1/2 avocado
cheese of your choice (I love crumbly goat cheese or cubed raw cheddar)
WHAT YOU DO:
preheat oven to 400 degrees
toss butt nut in coconut oil and sprinkle with sea salt, bake for 20 minutes, flipping half way (yes, we call butternut "butt nut")
reheat chicken or pan sear leftover steak on the stovetop using a little extra coconut oil
lay down a base of arugula
add each cold ingredient in its own special space around the bowl, with the cheese in the center
add hot protein and squash to finish off the bowl
drizzle with crack sauce of your choosing
ENJOY! (if you're like me, enjoy every night of the week forever)