"Guest Interview – Dr. Sherri Lorraine on the Pelvic Floor"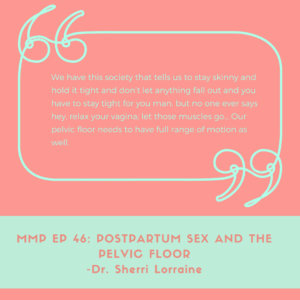 In this episode, Laura sits down with Dr. Sherri Lorraine for an interview FILLED with lightbulb moments. They dive into all things pelvic floor, from what you can do preconception and during pregnancy to help with pelvic floor recovery in the postpartum period, to rehabilitation tools, and plenty of sex talk. Just wait till you hear about the 30 second rule. If you have a pelvic floor (you do), this episode is for YOU!
Dr. Sherri M. Lorraine graduated with an undergraduate Health Science degree from University of Central Florida with a full Bright Futures Scholarship. Dr. Lorraine attended University of St. Augustine for a master's degree in Physical Therapy. She continued on for a Doctorate in Physical Therapy with emphasis on the Sacro Iliac joint through the University of St. Augustine while studying in California. Dr. Lorraine worked at Shriner's Hospital for Children Shreveport, Louisiana in the 3-D Gait Analysis Laboratory as a Doctor of Physical Therapy while acquiring her PhD in research and education.  She continued on with her education through the American Physical Therapy Association, Section on Women's Health and completed a Certificate of Achievement in CAPP-Pelvic Floor & OB Physical Therapy and her Breast Cancer Care Certificate through the KLOSE Institute. Dr. Lorraine is the only Dual Doctorate, CAPP-Pelvic Floor, OB & Breast Certified Women's Health Physical Therapist within two counties.  This has become her sole treatment area and passion. Her motto is to support patients in "Living life to their healthiest potential".
Edited to add: Thanks to an awesome listener (Jennifer Torborg, a PT with CAPP-PELVIC and CAPP-OB), who let me know that there are more resources! 
How to find a PT near you:
http://pt.womenshealthapta.org/
https://pelvicguru.com/2016/02/13/find-a-pelvic-health-professional/
Here would be some great people to reach out for those of you in California like me:
http://www.juliewiebept.com/
http://everyday-battles.com/
https://www.pelvicpainrehab.com/
https://www.pelvicsanity.com/
http://www.casiedpt.com/contact/
Links and Such:
Sacroiliac Belt
Find a PT
Dr. Lorraine's website
Connect with us:
Email: modernmamaspodcast@gmail.com
Any thoughts or comments? Leave them below. We love hearing from you. Please subscribe, rate, and review! We're so glad to have you as a part of our tribe! Oh, and don't forget that you can sign up for Butcher Box, you can get 2 free ribeye (10 oz steaks) AND $10 off your first order. Your signup gets you delicious meat AND supports our efforts on this podcast.
♡ Laura