We've got a new Podcast Partner, and we are THRILLED! Paleovalley has come on board to support the Modern Mamas Podcast and to bring our wonderful listeners a great deal. Click here and use code "radicalroots" for 20% off your entire order. The Organ Complex has been a huge part of my fertility and postpartum journey, and now I use it as a part of Evie's first foods! And I use the Non-Denatured Whey and Beef Sticks every single day to keep me nourished through whatever life brings. Don't miss the deal! Thanks so much for supporting the podcast, listening in, and being a part of this tribe.
"All About Budgeting with Guest Host Stephanie Cahill"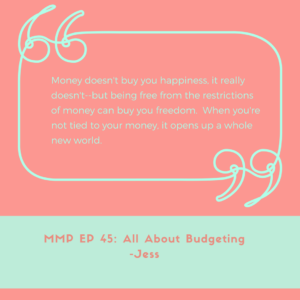 In this episode, Jess sits down with Stephane Cahill of Cleaner Stephanie, one of her favorite mamas and fellow bloggers, to chat all things MONEY.  You guys have asked for an episode on how we make eating healthy and LIFE work on a budget, and we delivered!  We go through our personal finance stories, how we've both paid of debt and made moves in our financial lives by getting back to what's important, and knowing where our money is going.  Both of us feel passionately that having a budget can mean freedom in so many ways, and we hope this inspires you!