We are SO EXCITED to share that Four Sigmatic has come on to support the Modern Mamas Podcast and to bring you guys a great deal! If you've been following along, you know that I am loving the impact these deeply medicinal real food supplements have had on my life, and I can't wait to hear what you think too. Get 15% off your Four Sigmatic order with code: modernmamas! Happy shrooming, friends ♡
"Guest Interview – Todd White, CEO of Dry Farm Wines, on the hidden secrets of the wine industry, the magic of sharing a glass with the ones we love, and how wine can actually be paleo, and even ketogenic"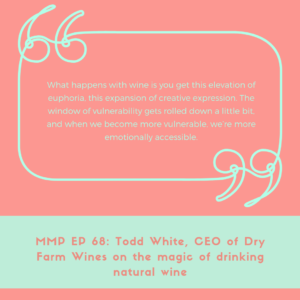 In this episode, Laura sits down with Todd, CEO of Dry Farm Wine (get a bottle for a penny HERE!) for an awesome discussion about the hidden secrets the wine industry doesn't want you to know, the reasons Dry Farm Wine is different, the magic of sharing a glass with the ones we love, and the reasons why you can sip wine and still maintain a healthy life: mind, body, and soul.
The wonderful people at Dry Farm Wines search the world for the finest natural, sustainable, and biodynamic wines. The family farms and artisans that handcraft these wines are deeply committed to these farming and winemaking practices. You can taste it in every soulful bottle of wine they collect.
The authentic wines that Dry Farm Wines procures are exceptionally interesting and compelling expressions of taste and pleasure. When a wine is alive and free from overreaching modern influence, the wine will whisper in nature's perfect logic and design. The wine will express nature joyfully and perfectly.
Their wines all share natural farming and traditional winemaking practices, including:
Natural, sustainable, or bio-dynamic viticulture/farming
Dry farming, no use of irrigation
Old growth vines, generally 35-100 years
Hand harvested fruit from low yields
Minimal intervention in the vinification and aging
Wild native yeast in fermentation
No commercial yeast for flavor alteration
No or minimal filtering/fining
No or minimal use of new oak
No or minimal addition of SO2 (sulfites)
No chaptalization (adding sugar to the grape must in fermentation)
No chemical additives for aroma, color, flavor or texture enhancement
Links and Such:
Get a bottle for just a penny, and learn more about Dry Farm Wines HERE!
Find Dry Farm Wines on Instagram
Izabella Wentz
FDA approved additives for wine
Connect with us:
Email: modernmamaspodcast@gmail.com
Any thoughts or comments? Leave them below. We love hearing from you. Please subscribe, rate, and review! We're so glad to have you as a part of our tribe!
♡ Laura