We are SO EXCITED to share that Four Sigmatic has come on to support the Modern Mamas Podcast and to bring you guys a great deal! Get 15% off your Four Sigmatic order with code: modernmamas!  If you've been following along, you know that I am loving the impact these deeply medicinal real food supplements have had on my life, and I can't wait to hear what you think too. Happy shrooming, friends ♡
"Guest Interview – Dr. Carrie Jones and Postpartum Hormones"
In this episode, Jess sits down with Dr. Carrie Jones, expert on women's health and hormones, to chat all things postpartum hormones. We deep dive into what's happening in pregnancy, and how our hormones change starting immediately postpartum. Not only do we walk through these changes and how they affect us, but we talk about breastfeeding, postpartum depression, and how to support your hormones post baby. We also answer listener questions all about the DUTCH test, which is the gold standard for hormone testing, and how and when it can be used postpartum to help gauge your hormonal health. This was a GREAT one friends!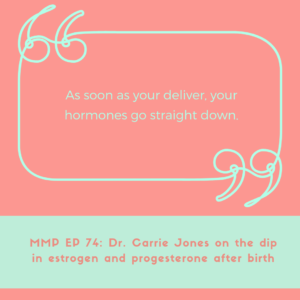 Dr. Carrie Jones is an internationally recognized speaker, consultant, and educator on the topic of women's health and hormones. She graduated from the National University of Natural Medicine (NUNM), School of Naturopathic Medicine in Portland, Oregon where she also completed her 2-year residency in women's health, hormones and endocrinology. Later she graduated from Grand Canyon University's Master of Public Health program with a goal of doing more international education. She was adjunct faculty for many years teaching gynecology and advanced endocrinology/fertility and has been the Medical Director for 2 large integrative clinics in Portland. She is the Medical Director for Precision Analytical, Inc, creators of the DUTCH hormone test.
Links and Such:
Connect with Nicole: http://www.drcarriejones.com, @dr.carriejones
The DUTCH Test
Connect with us:
Email: modernmamaspodcast@gmail.com
Any thoughts or comments? Leave them below. We love hearing from you. Please subscribe, rate, and review! We're so glad to have you as a part of our tribe!
♡ Laura