As many of you know, this past week was my last working for CrossFit HQ after 6+ years. I dive into all the juicy details of what happened and how it was EXACTLY the kick in the butt I needed to move forward with building my own business and pursuing my passion AND about how this move into #vanlife was so incredibly timely (thank you Universe) in THIS episode of the Modern Mamas Podcast.
All that said, before diving full steam ahead into my work, I decided it was time for a few days away with my family to decompress, reconnect, eat, sip, and enjoy a place we've been wanting to go for years: Sonoma County. After LOTS of great feedback on Instagram, I bring you this post with the wonderful eats, sips, walks, and places enjoyed along the way. Note: this is just the start, as we plan to spend much more time up there, especially in Sebastopol, which quickly won our hearts.
So here are snippets of our favorite spots in Sonoma County. I hope you enjoy as much as we did. Cheers!
Sonoma
Eat: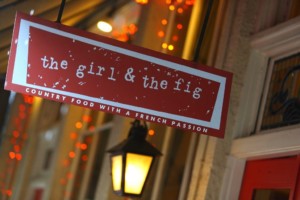 The Girl and the Fig: incredible (fig focused) farm to table meals, babe friendly (and just overall friendly) staff, delicious sips, and right in the heart of downtown Sonoma for exploring before or after your meal. We each started with a celebratory Fig Royale with French sparkling wine and house-made fig liqueur. We also shared the Cheese & Fruit plate that had our choice of three cheeses (we did a cow cheddar, insanely creamy goat cheese with honey drizzle, and a sheeps milk cheese), plus fresh figs, fig and walnut thin rounds, seasoned nuts, and a fig compote. It was unreal. Then, I got Fig & Arugula salad (duh) with toasted pecans, MANO FORMATE pancetta, laura chenel chèvre, fig & port vinaigrette. And per usual Rusty got the Gluten Free Pancakes with Fig marmalade, whipped mascarpone, balsamic-maple syrup (I snagged a bite, and yum).
Explore:
Cornerstone Sonoma: The Sunset Test Gardens span a quarter acre, where they grow an interesting variety of plants and trees while experimenting with design techniques to keep visitors fed with fresh ideas. Designed by Homestead Design Collective, the new gardens are divided into distinct rooms: the Cocktail Garden, the Farm Garden, Gathering Space, Backyard Orchard, and the Flower Room. Evie LOVED walking with our fingers and sniffing each and every plant and flower. There are also a few wine tasting rooms (we thoroughly enjoyed the Obsidian Wines sauv blanc, wine making practice, and cool story), shops, and a delicious looking cafe (though we were full from lunch).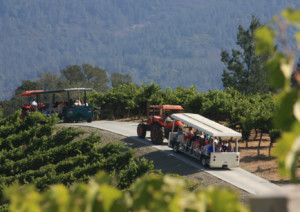 Sip:
Benziger Family Winery: The folks at Benziger are about three things: family, great wine and healthy vineyards. For more than thirty years, they've farmed their ranch on Sonoma Mountain and searched Sonoma County for the most distinctive and expressive vineyards. Once found, we tend these sites using certified Biodynamic, organic and sustainable farming methods. The result is a portfolio of authentic and memorable wines. We can attest to that. After a fun farm tour (pulled by a tractor!) and sipping many of their wines, we're hooked and plan to come back time and time again. Who knows? Maybe if we settle in California (someday), we'll become members. The winery was gorgeous. The people were friendly. And the wine was fabulous. Win.
Sebastopol
Eat:
Taylor Lane Organic Coffee: Delicious coffee and great customer service with huge slider door that turns inside to outside once the sun starts shining. It was a lovely spot to make my Boosted Coffee and get some work done in the morning.
Community Market Organic Foods: We had a delicious lunch here, stocked up on some necessities (like some arnica for this babe's last canine that was coming in and plenty of sparkling water), and got to lounge in the picnic area, change a diaper, and relax all in one. The hot/salad bar was great, and Rusty really enjoyed his sandwich. So many organic, local options to choose from; basically my heaven. I love shopping local markets to get a feel for an area, and now Sebastopol is certainly on our post van-life list (if California housing market ever takes a dump).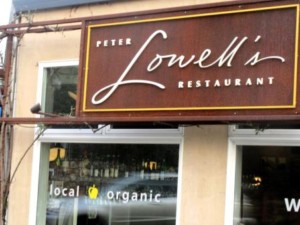 Lowell's Restaurant: This might have been the biggest surprise of the trip. We had reservations somewhere else, and they had to cancel, so with an plot twist, we ended up at one of the best restaurants Rusty and I have ever enjoyed. Everything from the food (oh my god), to the service, and even the ambiance set such a beautiful tone to wrap an incredible day. We started with the Duck & Pork with duck liver mousse, pork terrine (one of the best things I've ever eaten), whole grain mustard, apple chutney, pickled onion, and a sourdough crostini backed locally from hand tended wheat. Then, Rusty went with a pizza that looked unbelievable, and I got the Gemischter Salad with the signature blend of spicy and hearty greens with shaved root vegetables, toasted pepitas, and roasted beet vinaigrette. I added goat cheese and the market fish, and it was legit UNREAL. Best surprise ever ordering a salad with so much depth, flavor, and soul warming. And to top it all off, we shared a glass of one of the BEST wines I have ever had: a biodynamic French Aligoté from Goisot. I'd drive all the way to Sebastopol just to eat here again; in fact, we are at the end of the month.
Explore: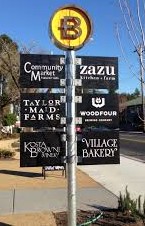 The Barlow: Once of the places we're MOST excited to go back to. We explored (and loved), but we didn't eat or sip because we had full bellies from lunch at the local organic grocer (which was amazing). This is our main stop when we go back at the end of the month. Evie got a special friend (lovingly named Sebastian) from Circle of Hands. And Rusty and I fell in love with just about everything in California Sister Floral. I am most looking forward to eating at either the Farmer's Wife or  Zazu Kitchen on our nest visit. And we'll certainly sip at Macphail.
Move:
Laguna de Santa Rosa Trail: We LOVED getting outside for an hour+ of walking, talking, dreaming, and enjoying the glorious fall in Sebestapol. Just a mile away from the Barlow lies this park with miles of trails, nature restoration, and beautiful views. Such a great way to get outside and move when traveling.
Sip:
*pending* – we didn't explore wineries here, but the biodynamic French white wine blend I had at Lowell's is still stuck in my mind. I cannot wait to have another glass when we go back at the end of the month.
Petaluma
Eat:
The Wild Goat Bistro: This was such a great find. Located right downtown and walking distance from our Airbnb. The menu had was based off of local ingredients and the staff went above and beyond to offer great service and to ensure Evie was taken care of. It was a lovely final night in Sonoma County.
Aqus Cafe: This was a great local coffee shop find. Local organic Petaluma dairy and a simple yet delicious breakfast menu. Evie loved her eggs, Rusty enjoyed a breakfast burrito, and I loved have organic coffee and heavy cream to make get BOOSTED.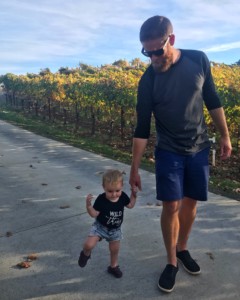 Move:
Walnut Park: Just outside of the downtown strip, this park was a perfect place for Evie to swing while Rusty and I got in a workout. I LOVE getting creative with workouts in fun new places. We made use of bars for pull ups and ledges for step ups and pistols. Make sure to follow along with my "Fitness" highlight on Instagram for all the goods we come up with on the road.
Alright friends, what am I missing. We're hading back towards the end of the month and I am ALLLL ears (or eyes, so leave a comment below). Thank you! And as always, thanks for being here, for supporting the Radical Roots family, and for sharing your hearts and holding space for ours.
♡Laura