If you've been following along over on Instagram (check my highlights), you know we recently got back from a trip to Portland, Oregon. This was Evie's third trip by plane, and they just keep getting more and more fun as she gets older. We're lucky to have an easy traveler (thus far) who actually seems to thrive on trips away. I had some requests for a wrap up of our trip for other parents (or even non-parents) looking for the best eats, spots, and activities while in Portland. I plan to add to this list as we venture back in the near future. But for now, enjoy!
Note: I am skipping where to stay for now. My husband works for CrossFit, and they put us up in a nice hotel (which we are so grateful for), but we do not usually travel by hotel, so I will update this post once we've come back and either camped or found a fun airbnb. So stay tuned!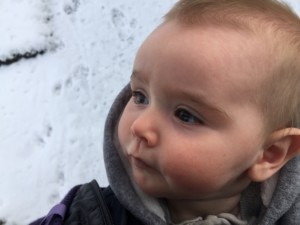 Flying:
Flights: flight time matters (at least for us). She does best when we fly early morning or right around nap time because we know we'll get at least a section of the trip to relax while the babe sleeps. For us, this means booking around 6am, 10am, or 2pm. I'll either walk laps before boarding (more on how I can do this in the packing bullet below) so she'll fall asleep before boarding and usually sleep through takeoff. OR I nurse during takeoff and she'll usually drift off. I recommend Alaska because they're consistently kind and they gave Evie her first pair of wings! (Note: you do have to take baby out of the carrier during takeoff and landing, which sucks, but that's protocol).
Coffee: Bonus points for a Stumptown Coffee in the Alaska terminal! I liked getting there early and getting some work done before takeoff, plus some nursing and snuggle time with the babe before we boarded. It was nice to not be rushed.
Plugged ears: nurse nurse nurse on takeoff and landing. Works for us! Note: I DO NOT wake her to nurse if she's sleeping through either. No issues thus far letting her sleep through.
Purse/Diaper Bag: I am a light packer by nature, so this is easy for me. I also really despise having a lot of stuff, so Evie packs light by association. I bring my phone (which has a space for my credit card and ID), headphones, snacks (see below), 2 diapers, a small ziplock of wipes, 1 fresh onesie, a scarf (doubles as a blanket for her and warmth for me if needed (I do this instead of a sweatshirt), and laptop. I have THIS Fjallraven bag that doubles as a backpack and it's RAD for traveling and diaper bag needs.
Check a bag?: Sometimes it's worth it. Sometimes it's not. If I can fit all I need in a backpack, that's all that comes. When we went to Portland, we knew Rusty would be coming home with shwag from CrossFit and that I would be traveling home with it solo because he went straight to Brazil for a Seminar. So, I checked a bag so I wouldn't have a ton to lug around the airport with Evie in tow.
Snacks: Coconut butter packets (awesome for Evie entertainment and food too), Paleovalley beef sticks (use code "radicalroots" HERE for 20% off your order), Phat Fudge (my new favorite travel snack for me). Note: I don't need a ton of snacks because I always eat a super high fat, low carb, solid protein meal prior to flying. This keeps me satiated longer and keeps my mind sharp for traveling with babe.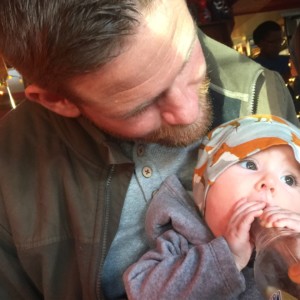 Getting around:
Portland is shockingly quick and easy to navigate for a big city. This is one of the many things I love. I think it was worth it to rent a car because traffic wasn't that bad, and it never took more than 15-20 minutes to get anywhere! Parking was also surprisingly easy to find.
National: Our favorite car rental so far.
Rent a carseat: You probably noticed I didn't mention a carseat for flying. We have decided to rent one when we rent a car. To us, it's TOTALLY worth not lugging one around an airport. We don't own a stroller, and carry our stuff, so this is the most convenient way for us to travel, and they are surprisingly cheap, clean, and high quality (thus far).
Ergo: We have both the Organic Ergo and the 360. I thought I'd fall deeply in love with the 360, but the truth is I LOVE the organic original. She can only face in, but it's lighter, easier to get on and off, and it has a super convenient pocket. It's my go to always, but especially when traveling. Evie loved seeing her first snow from her ergo view. (Note: husband likes the 360 better).
Parking: I always pack a small ziplock of whatever change we have around the house when we travel to cities. Comes in handy for parking meters!
Essentials/groceries:
Whole foods (stock the fridge for babe): Whole Foods is always one of the first things I search for when we land because I know I can stock up on consistent nourishing foods for Evie. We always go for blueberries, unsweetened high probiotic yogurt, and sardines or salmon. Easy peasy. I also stock up on water for us, and depending on what our food situation will be like, coffee (usually Bulletproof, Picnik, or Chameleon) and snacks (usually some macadamia nuts, good local cheese, and kombucha) for the room. In Portland, the food and coffee are SO good that snacks and coffee aren't necessary. We ate out a lot – see below – because I knew the quality of the food was top notch)
REI: I had to stop in to REI because I feel like REIs are especially fun in outdoorsy cities. The Portland one didn't disappoint! I am NOT a shopper, but I could walk around REI for hours.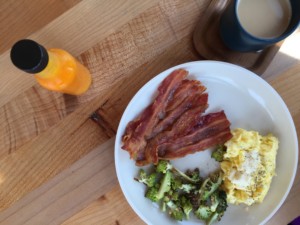 Eat (thanks for your patience; I know this is what you all wanted):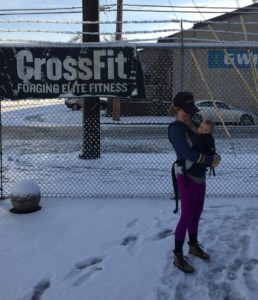 Move:
CrossFit X Factor: My favorite CrossFit gym in Portland owned by wonderful friends! A must stop if you're looking for a CrossFit fix during your travels.
Mount Tabor: This will be a must-do every time we are in Portland. Easy to get to just outside town (unless it's snowing a lot, which meant we walked about .5 mile to get to the base because our rental was not equipped for the snowy streets to get there), gorgeous views, nice hills for an enjoyable workout and quality time outside. It's a volcano, which is extra cool!
What did I miss!? Comment below with your favorite Portland spots, so we can share the LOVE!
♡ Laura