"Modern Working Mamas"
In this episode, Laura and Jess dive into the ins and outs of how they make life work as modern working mamas. This episode brings different perspectives because Jess works outside of the home, and Laura works from home. Tune in to hear what works and what doesn't and a little about how we're learning as we go!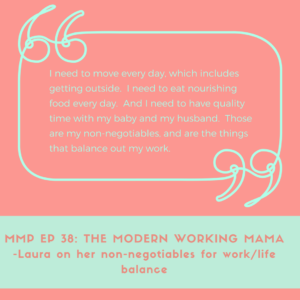 Links and Such:
Jess' mug cookies recipes!
Pure 7 Chocolate
Diana Rodgers' post on how chocolate is a social justice issue
Beautycounter Countermatch
Beautycounter nude palate
Generation Mindful
Ep#34: Peace and Parenting
Sign up for a fitness programming with me!
Cycle syncing – My Flo App
The Woman Code
Ep#31: Mom Guilt
Laura's EMF blocking phone case
Connect with us:
Any thoughts or comments? Leave them below. We love hearing from you. Please subscribe, rate, and review! We're so glad to have you as a part of our tribe! Oh, and don't forget that you can sign up for Butcher Box, you can get 2 free ribeye (10 oz steaks) AND $10 off your first order. Your signup gets you delicious meat AND supports our efforts on this podcast.
♡ Laura