This is the first time in a LONG time that I've made a recipe and then posted said recipe in the same day. I am giving myself major props here, especially because I am coming off of 5 days of solo parenting that also included flying solo with the babe.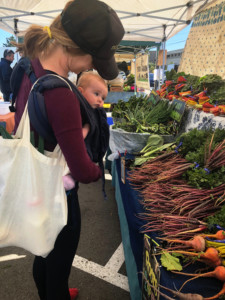 Life ebbs and flows, my friends, and right now, I'm F L O W I N G. Seriously, though, I feel deeply happy. And I am not ashamed to say it. Spices are tasting good again (that legitimately just came back after 9 months of pregnancy aversions and even 7-8 months postpartum of still not feeling the spice love). My husband and I are both doing work we love. I feel supported, loved, and surrounded by my tribe. And my kid is a goddamn kick in the pants. No one told me how fun this age is. I just fall more in love with her every day. Maybe it's all the turmeric going down the hatch daily or the mushrooms in my coffee. Or maybe it's just that I love myself and my life in a way I never have before. See? Flowing.
That said, I sat down for lunch with Evie today, and we both gobbled this rice up. It's the one time I wasn't quite as excited to share as usual. More for mama please. Anyways, I hope you enjoy as much as we did! Cheers to happiness, friends. May we all find it in the flow times, and remember it in the ebbs.
Golden Cauliflower Rice
Servings: 4
Difficulty: easy
WHAT YOU NEED:
1 medium head of cauliflower
3 tTB ghee or coconut oil
1/2 tsp turmeric
1/2 tsp cumin
1/2 tsp garlic granules
1/2 tsp sea salt + more to taste if desired
1/4 tsp chili powder* (optional)
a squeeze of meyer lemon juice (these are in season and at our local farmers market, and I am PUMPED)
*I cannot recommend the Bulgarian carrot pepper powder from Burn enough.. obsessed. If you're visiting or local to Santa Cruz, hit up one of our farmers markets and STOCK UP.
WHAT YOU DO:
heat a pan on medium heat
rice your cauliflower by cutting into chunks and pulsing in a Vitamix or food processor
add ghee to pan and dump in your rice
as the rice starts to soften, add spices, and continue to stir to avoid any sticking
taste as you go, and add salt if needed
just before it's done, add the squeeze of lemon juice
plate, sprinkle with a little extra chili powder and squeeze a little more lemon, and…
ENJOY! I love this with a drizzle of Primal Kitchen ranch dressing and runny fried eggs
I'd love to hear your thoughts on this one. It's become a serious love affair over here. Happy cauli ricing, friends!
♡ Laura