"Real Talk about Autoimmunity, Infertility, and Postpartum Self Care with Alaena Haber of Grazed and Enthused"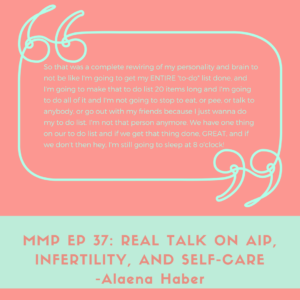 In this episode, Jess sits down with Alaena Haber of Grazed and Enthused to talk about EVERYTHING.  We deep dive into what living with an Autoimmune condition is like, how it can be affected during pregnancy and postpartum, and strategies on how to manage acute flares during these times.  We also get real about infertility struggles, baby led weaning, self love and self-care, as well as navigating being an intuitive person.  This episode is filled with so much knowledge, so many golden nuggets of insight, and you won't want to miss hearing this RAD human talk life!
Alaena Haber is the blogger at Grazed & Enthused, an allergy-friendly website providing healing recipes that fit the Paleo and Autoimmune Protocol templates. She is also the author of The Healing Kitchen cookbook as well as her new ebook Enthused. Alaena is the mother to one insanely cute daughter Grace & reversed her infertility diagnosis by healing her body and mindset. She has her master's degree in occupational therapy and practiced in the pediatric setting prior to becoming a full-time stay-at-home working mama.
Links and Such:
DUTCH Test
Alaena's Hashimotos During Pregnancy Post
Alaena's How We Introduced Solids Post
All Grazed and Enthused Baby Posts
Sweet Potato Fat Balls Recipe
Paleo Baby Smash Cake Recipe
Alaena's Latest E-Book Enthused: 80+ Allergy Friendly Recipes You WANT to eat!
Alaena's Website: Grazed and Enthused
Alaena on Instagram: @grazedandenthused
Connect with us:
Email: modernmamaspodcast@gmail.com
Any thoughts or comments? Leave them below. We love hearing from you. Please subscribe, rate, and review! We're so glad to have you as a part of our tribe! Oh, and don't forget that you can sign up for Butcher Box, you can get 2 free ribeye (10 oz steaks) AND $10 off your first order. Your signup gets you delicious meat AND supports our efforts on this podcast.
♡ Laura