"Evie's First Eats"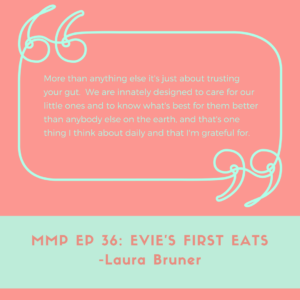 In this episode, Laura sits down for the first solo episode of the Modern Mamas Podcast to talk all about her current adventures in Evie's first foods. Using primarily baby led weaning (though not an expert on it), Laura is following her gut and Evie's lead when it comes to introducing foods for the first time and getting in those important nutrients. After lots of questions, she decided to sit down with a glass of wine one solo parenting weekend and share what's worked so far. Stay tuned for a followup as Evie grows!
Links and Such:
Find all of the supplements, feeding things, and the like in Laura's Baby Essentials post!
Follow along on Instagram stories for daily eats!
Connect with us:
Any thoughts or comments? Leave them below. We love hearing from you. Please subscribe, rate, and review! We're so glad to have you as a part of our tribe! Oh, and don't forget that you can sign up for Butcher Box, you can get 2 free ribeye (10 oz steaks) AND $10 off your first order. Your signup gets you delicious meat AND supports our efforts on this podcast.
♡ Laura