"Guest Interview – Kiersten Peterson: I Had a Miscarriage"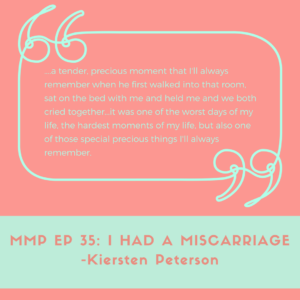 In this episode, Jess and Laura sit down with Kiersten Peterson of Vibrant Life Army Wife, as she shares her story of her two miscarriages. Kiersten is opening up and starting a dialogue about a topic that has for so long been considered taboo, and in doing so she is supporting so many women along the way. We are so grateful to have her join us for this very emotional and meaningful episode. Please note that the episode does focus on miscarriage, so if you are not in a place to listen to this topic, save this one for a later date.
Kiersten is a 20 something self-proclaimed nutrition nerd, Nutritional Therapy Practitioner and trained doula with a love of real food, natural healing, and all things fertility, pregnancy, and birth related. She is an army wife currently living in Georgia with her husband and two cute pups. After years of digestive distress, thyroid issues, anxiety, and constant fatigue, Kiersten discovered real food and developed an intense passion to heal her body with real, nutrient dense food. This passion turned to using real food and a healthy lifestyle to promote fertility and a healthy pregnancy and baby when she and her husband decided to start trying to grow their family. After two miscarriages, she now has two sweet angel babies and a strong desire to help other women struggling with pregnancy loss, and to end the stigma surrounding it. You can follow along with her journey on Instagram and her blog, Vibrant Life Army Wife.
Links and Such:
Laura's crack sauce and rainbow bowl recipes
Kiersten's bacon braised collard greens
This Side of Heaven: Ellis' Story
Please God, Not Again: Baby Pea's Story
Am I a mom?
Aloe plant on Instagram
TTC post on Instagram
Connect with Kiersten: @vibrantlifearmywife & vibrantlifearmywife.com
Connect with us:
Email: modernmamaspodcast@gmail.com
Any thoughts or comments? Leave them below. We love hearing from you. Please subscribe, rate, and review! We're so glad to have you as a part of our tribe! Oh, and don't forget that you can sign up for Butcher Box, you can get 2 free ribeye (10 oz steaks) AND $10 off your first order. Your signup gets you delicious meat AND supports our efforts on this podcast.
♡ Laura