Napa is a very special place for our family. It's been a romantic weekend away destination for Rusty and I since we first started dating back in 2009. It's where we take a yearly trip for my best friend, Taz's, birthday. And now it's where we will take family weekends because, believe it or not, the Napa Valley can actually be a very baby and family friendly place to sip, dine, and play. I decided to write this post in case any other Napa lovers out there want to bring their babes for a weekend away enjoying some of the best wine and food on the planet. I've broken this one down into categories, so pick and choose any tips you'd like. Also, if you have anything to add, please comment below! I'd love to learn from you too. ♡
What to bring:
Diaper bag: this one may seem rather obvious, but just in case you want a checklist, here's what we bring: change of clothes for both mama and baby. I did not do this on this trip and ended up tasting wine with spitup down my front. I rocked it, but if it had been out the other end, I sure would've liked to change. And of course, snacks, I always pack a few Primal Kitchen bars and Paleovalley beef sticks (coupon code "radicalroots" for 20% off) in case we get hungry (and this breastfeeding mama is always hungry).
To wear: No matter the season, I recommend hats and scarfs in Napa. It can get chili at night even in the summer, and in lovely California, the sun is out most of the year. Stay warm and protect that face.
Lounging: We always throw a thick picnic style blanket in the car that we can lay out on a lawn, table, etc and lay one of baby's blankets on to lay her down when we want. This way we can picnic or lounge hands-free and she can take in the world around her.
Sleeping: One thing we've learned is that keeping the same relative rhythm for baby's sleep is huge for getting good sleep when traveling. For this reason, whenever we drive to an overnight adventure, we bring our Askr & Embla. Because Evie sleeps in this at home with us, it provides normalcy when we are away and allows for her to keep her same sleep patterns wherever we go. We also bring along our Guava Lotus pack and play, which packs up conveniently and fit perfectly in the small space of the airstream we stayed in (more on that to come). We also bring a couple sleeping outfit options and a beanie so we can choose how warm we want to go based on the temp at the time.
Managing the drive: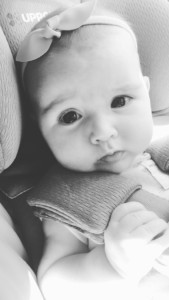 I've had a number of mamas ask recently about babies and carseats. It turns out it's a running trend that some kiddos just hate carseats. It's good to know we are not alone. Here are my top tips for making a road trip work. Napa is about 2 hours from us by car, so I certainly put these to use for our drive.
Choose driving time wisely: as we've gotten to know Evie's sleep patterns, we can plan drives according to typical nap times. Before we drive anywhere, I get in a nice long nursing session to ensure she's got a full belly. Then, it's much more likely that she'll be content enough to nod off once we hit smooth sailing.
Mama (or dad) in the back: I always sit in the back with Evie when my husband and I are both in the car. Even though I cannot pull her out (which is what she really wants when she's upset), being present makes a world of difference. I've learned that if I just sit and listen when she starts to fuss, allowing her to express how pissed off she is to be in there and telling her I understand, the fit tapers off much more quickly, turning to smiles and chit chat. We did a whole Modern Mamas episode on Aware Parenting with Liz Wolfe, and this practice has taught me that even before they can actually speak, littles just want to be heard and have their feelings acknowledged. If I play on my phone, she's much more likely to fuss. If I sit and look at her and talk to her, things always go more happily. Plus, bonus points for being more present and connecting with my little one.
We always keep our little fox buddy (courtesy of Finn & Emma) on every trip. It's something familiar for Evie to talk to, grab, and be fascinated by. Whatever that "thing" is for your kiddo, bring it along!
A mirror. Evie is now just over 3 months and can recognize herself in the mirror. The mirror is great for solo driving with her but also for when she wants to chat with that pretty face of hers during a long drive.
Where to taste: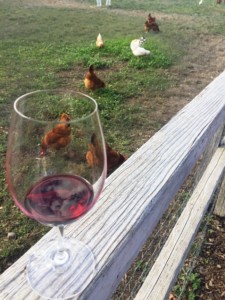 I plan to add to this list as we take more trips with Evie, but we either visited these spots or they've come highly recommended by good friends of ours as baby/family friendly. Make sure to reserve! Napa has new guidelines making it so you have to reserve for tastings at most wineries now. While this is kind of annoying, it does make it easy to plan ahead.
Frog's Leap Winery: Amazing organic wines, plenty of spacious lawn for lounging and baby playing, dog friendly, really comfortable nursing chairs, friendly staff, chickens, and an organic garden, plus pathways throughout the property to explore.
Long Meadow Ranch: This is one you can just walk up to without a reservation and taste some incredible organic estate wines. The tasting room is located at our favorite restaurant (more on that to come), and there's also a small cafe, a fire pit, and lawn games to enjoy. Great for families.
V. Sattui Winery: Though we haven't been to this one yet, it comes highly recommended by a good friend. They have an on sight artisan deli and 2.5 acres of picnic grounds to enjoy with your little ones and pups too! I can't speak about the wine yet, but I will report back. This is definitely on our list!
How I nurse and sip: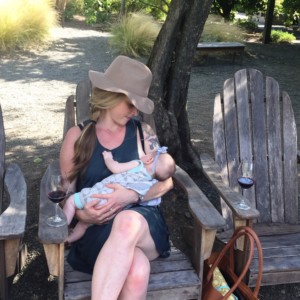 I got some really great information from Kellymom.com on this topic, and since I've gotten a number of messages, I thought I'd tell you what works for us. My plan is to always get in a solid nursing session right before we taste so Evie will be good for 2-3 hours. I also usually (not this trip though) share a tasting with my husband, so I can perhaps hit more than one winery or have a glass with my meal. I also eat a lot in Napa, so that helps with the impact of the alcohol. I genuinely sip wine for the flavor (whether or not I am nursing), not with the intention of getting drunk. If I get a good buzz, I wait till it goes away before nursing again. This is totally a decision that's yours as a mama to make. I have zero judgement on this one, so do whatever feels right to you!
Current research says that occasional use of alcohol (1-2 drinks) does not appear to be harmful to the nursing baby.
Drinking should be relatively limited though, and the recommendation is no more than 0.5 g alcohol per kg body weight, which for a 60 kg mother is approximately 2 oz liquor, 8 oz wine, or 2 beers.
Nursing should take place 2 hours or longer after the alcohol intake to minimize its concentration in the ingested milk.
There is no need to pump & dump milk after drinking alcohol, other than for mom's comfort — pumping & dumping does not speed the elimination of alcohol from the milk. However, pump or hand express whenever you feel uncomfortably full – this will help you to avoid plugged ducts and mastitis (which I have had, and it is awful).
In general, if you are sober enough to drive, you are sober enough to breastfeed. Less than 2% of the alcohol consumed by the mother reaches her blood and milk.
Alcohol peaks in mom's blood and milk approximately 1/2-1 hour after drinking (but there is considerable variation from person to person, depending upon how much food was eaten in the same time period, mom's body weight and percentage of body fat, etc.). I eat a lot in Napa, so this helps.
Alcohol does not accumulate in breastmilk, but leaves the milk as it leaves the blood; so when your blood alcohol levels are back down, so are your milk alcohol levels.
Where to eat:
Here are our top favorites, which we learned also happen to be very family/baby friendly, but we also plan to do plenty more "research" in this category too.
Oxbow Market is always our first stop when we go to Napa. It breaks up the drive if we're going all the way to St. Helena, plus… donuts. Oxbow is packed full of delicious little shops and restaurants with plenty of outdoor seating that's shaded, comfortable for nursing, and spacious for kiddos who need to get some yayas out. Our favorites at Oxbow include C Casa where you'll find fresh, made-to- order white corn tortillas topped with ingredients like seasoned buffalo, rotisserie lamb, grilled prawns, fresh crab, micro greens, goat cheese, chipotle aioli and Serrano salsa. The breakfast tacos are incredible. They also offer Cate & Co gluten free donuts that are unreal, cooked in clarified butter, and melt-in-your-mouth delicious. We'd make this drive just for C Casa tacos and Cate & Co donuts. Oxbow also offers delicious Ritual Coffee, making it the perfect first stop to start a solid day. And, to end the day? Oxbow offers Three Twins Ice Cream for the win (complete with gluten free cones!).
Farmstead holds a very special place in our hearts and tummies, so finding out how baby friendly they are was like icing on the flourless chocolate cake. Even when we plan on trying a new spot, it turns out we end up canceling those plans and eating here. We basically cannot go to Napa without eating at Farmstead. The food is incredible. There's no pretension. There's an awesome outdoor seating area that good for kids and babies alike. It's the best. Eventually, I'll offer more choices, but for now, Farmsteaf reigns.
Where to stay: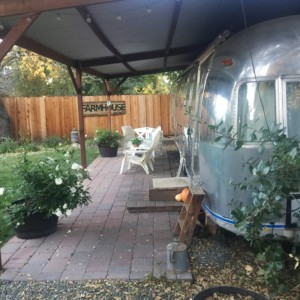 Lodging can be very expensive in Napa, but we've found a couple of options that we'll stick to for every visit. If we want to be in Napa and close to food and sipping, we'll from now on forever stay at our new favorite Airbnb spot – the Main Street Farmhouse Silver Cloud! It was perfect for our night – just the right size, comfortable, quiet, and fun too, with chickens right outside, a super cozy bed, and even a fridge – all for the right price.
Though we haven't done this yet, we do plan on camping at some point in Bothe-Napa Valley State Park. It's just north of Calistoga, so a little further away, but an easy drive and the perfect combo of two of our favorite worlds – the great outdoors and amazing food and wine. What's not to love! Stay tuned for a post all about camping. We've had a couple great trips now with our babe, and I am so excited for many camping trips to come.
Places to move:
We love to move in the mornings before a full day of food and fun in Napa, so here are a few ways we do it:
Hiking is our go-to outside the gym and we can't wait to take Evie on a good hike during our next trip. There's a perfect trail in Calistoga that we plan to get to next time with Evie in the Ergo. It's called Oat Hill Mine Trailhead, and it offers some nice little hills and amazing views of the valley.
When Evie gets a bit older, we plan to bring bikes and a kiddo seat, and take a backroads tour of Napa via the Silverado Trail. Rusty and I did this before we got married, and we're so excited to do it again with our little on board.
So I hope this helps! I'd love to hear your thoughts and experiences. Where is your favorite place to travel with your little one? Stay tuned for more travel posts to come as we traverse our world with Evie Wilder in tow.
♡ Laura