We are SO EXCITED to share that Four Sigmatic has come on to support the Modern Mamas Podcast and to bring you guys a great deal! Get 15% off your Four Sigmatic order with code: modernmamas!  If you've been following along, you know that I am loving the impact these deeply medicinal real food supplements have had on my life, and I can't wait to hear what you think too. Happy shrooming, friends ♡
"Guest Interview: The Daysy Fertility Tracker and Fertility Awareness with Holly Grigg-Spall"
In this amazing episode, Jess sits down with the incredibly smart, Holly Grigg-Spall, author of Sweetening the Pill: Or How We Got Hooked on Hormonal Birth Control, to discuss all things fertility awareness, including our favorite fertility tracker, the Daysy. This episode is chock full of mind-blowing insights about women's health and how its affected by hormonal birth control, and what we can do to take back our power and change our health!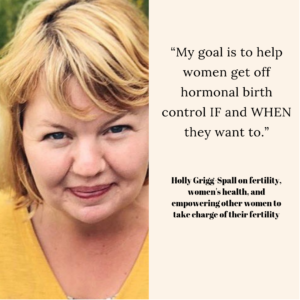 Holly is the author of the bestselling book Sweetening the Pill: Or How We Got Hooked On Hormonal Birth Control. She is consulting producer on a documentary inspired by her book, directed by Abby Epstein and executive produced by Ricki Lake, which is currently in production and due for release in 2019. Holly's Op-Ed on the pill and mental health side effects for the Guardian was ranked as the most-read comment piece of 2016. The story went viral, became a Twitter Moment, and as a result she was featured by the Washington Post and interviewed for NPR and CBC. Vice named her "the poster girl for a movement of women abandoning the pill in favor of contraceptives that don't wreak havoc on their body and mind." Holly's work has featured in both American and British Vogue; she has collaborated on an article about the pro-period revolution with Alanis Morissette, and produced a piece on male birth control options with Mayim Bialik. Holly is a speaker (most recently at SXSW and at Loom in Los Angeles) and leads workshops on going off hormonal birth control. She is also a brand ambassador for the Daysy fertility tracker.
Links and Such:
Sweetening the Pill Facebook Group
Order your own copy of Sweetening the Pill
Learn more about Daysy HERE.
Where to find Holly:
@holly.griggspall on Instagram
@daysyfertilitytracker on Instagram
Visit Holly's site HERE.
Connect with us:
Email: modernmamaspodcast@gmail.com
Any thoughts or comments? Leave them below. We love hearing from you. Please subscribe, rate, and review! We're so glad to have you as a part of our tribe!
♡ Laura