We are SO EXCITED to share that Four Sigmatic has come on to support the Modern Mamas Podcast and to bring you guys a great deal! Get 15% off your Four Sigmatic order with code: modernmamas!  If you've been following along, you know that I am loving the impact these deeply medicinal real food supplements have had on my life, and I can't wait to hear what you think too. Happy shrooming, friends ♡
"Guest Interview – Megan Garcia: Navigating Breastfeeding Challenges and Transitions"
This episode, Jess sits down with Megan Garcia to talk all things breastfeeding! We deep dive into navigating allergens, diet related issues, milk transitions, and so much more! It's one you definitely won't want to miss!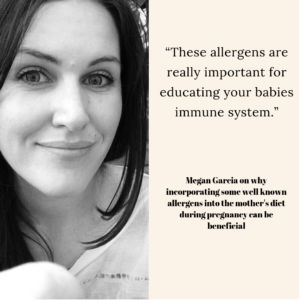 Megan Garcia is a mama to two boys and lives in Los Angeles. She has a master's degree in Traditional Oriental Medicine and is the creator of First Foods & Beyond. Her main gig for the last ten years has been copywriting, editing, and research for folks in the health and wellness industry. When Megan found out she was pregnant with her first baby back in 2011, she began going deep into baby health and wellness. Specifically a baby's first 1000 days. Her interest in baby health, combined with a big love for all things food and gut related has become the heart and soul of what she does in her own little corner of the web, at megangarcia.com. .
Links and Such:
How to Introduce Allergens to Your Baby
How to Choose a Plant Based Milk for Your Baby
Eczema in Babies
Four Remedies for Infant Reflux and Colic
Blood in Baby Poop
How to Manage Baby Allergies
Benefit of Breastmilk + My Favorite Formula Brands
Connect with Megan: 
Megangarcia.com
Instagram: @megan__garcia
Connect with us:
Email: modernmamaspodcast@gmail.com
Any thoughts or comments? Leave them below. We love hearing from you. Please subscribe, rate, and review! We're so glad to have you as a part of our tribe!
♡ Laura